Customer Experience

Employee Experience

Brand Experience

Product Experience

Core XM

Design XM
Contacts Sample
What's on This Page:
About Contacts Samples
A contact list sample is a subgroup of participants from your contact list to which you can send surveys. You can sample randomly, or you can select participants that meet certain conditions.
Using a contact list sample gives you the freedom to target specific segments of your audience at a time, allowing you to run pilot distributions, space your data collection over time, reach out to individuals who haven't responded to a survey invitation and more.
Qtip: At this point in time, samples cannot be moved into folders. However, contact lists can be moved.
Creating a New Sample
Qtip:
Members of the contact list that have been
opted out
will not be included in the sample, even if they match the sample's other conditions.
Choose which contact list you want to pull your sample from.

Name your sample.
Enter your limit for how large your sample can be in Max Sample Size.
Use the Sample Randomness slider to control how fast and how randomly the sample is calculated. "Faster" means less random, and will add contacts to the sample by the order in which they appear in the contact list.
Click Add a Sample Condition to set conditions on which contacts are eligible to be in the sample (to add multiple conditions, click the gray plus sign to the right of the condition).
Click the green Generate Sample button.

Qtip:

When generating a sample, a

Current Jobs

notice will appear next to the Create Sample button on the main Contacts page. While the job is running, you can leave the page to work on something else. When you return to the Contacts page, you can check on the job's progress or view the finished sample.
Sample Conditions
There are three main conditions you can use to filter your sample and target your survey invitations to the right participants.
Sample Options
On the Contacts page, you can navigate to your samples the same way you navigate to your contact lists.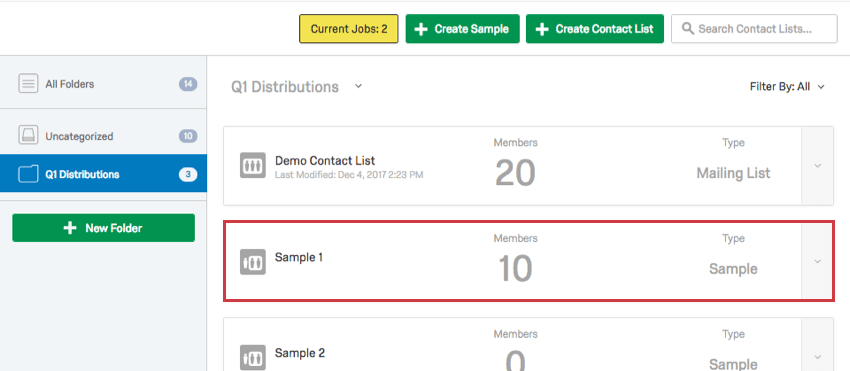 Once inside the sample, you will see the Sample Options menu, which allows you to perform the following actions:
Export List: Download a list of your contacts. You can choose which file type, whether to export the embedded data, and which member subscription status (all, subscribed, or unsubscribed) to export.
Regenerate Sample: Using your same Sample conditions, recreate your subgroup of members from your list.
Related Articles