Customer Experience

Employee Experience

Brand Experience

Product Experience

Core XM

Design XM
Managing Multiple Lists
What's on This Page:
Creating Folders for Contact Lists
Use custom folders and subfolders to organize your lists (you can create as many as you'd like). These folders are always displayed to the left. To create new folders, click the New Folder button and drag and drop the desired contact lists into the folder. You can also nest folders within each other by dragging and dropping.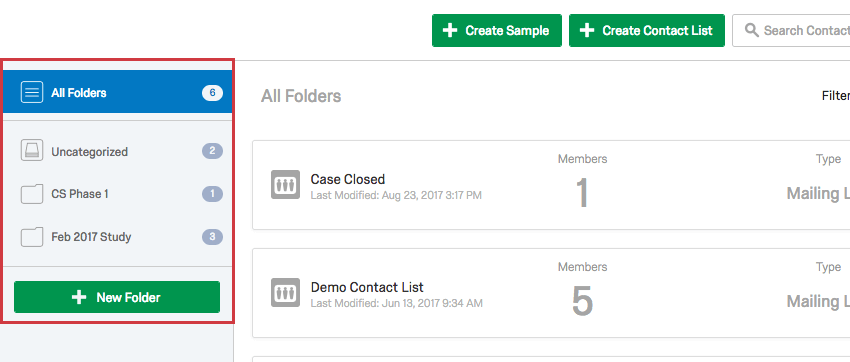 When you right-click on a folder, you can choose to Rename Folder, Create a Subfolder beneath it, or Delete Folder. When you delete a folder, your  contact lists are not deleted. Instead, they are moved to Uncategorized.
Contact List Options
To the far-right of each contact list and sample, there's a dropdown that contains additional options for managing your lists.

From this menu, you can perform the following actions:
Export List: Download a copy of your list. You can choose which file type, whether to export the embedded data, and which subscription status (all, subscribed, or unsubscribed) of members will be included.
Import List: Add new contacts manually, import contacts by uploading a file, or import contacts from a survey.

Qtip:

You can use the Export and Import options together to

edit or update

a contact list.

Send Email to List: Email your contacts a message that does not include a survey link.

Example: You could send a simple pre-survey introduction or a friendly thank you email.

Edit List Details: Rename your list, select a folder for your list, or view the list ID (IDs are useful for features like API).
Move List: Move the list to a different library (e.g., another group you have access to).
Delete: Delete your list.
Samples have a shorter version of this option list, with the additional option of regenerating the sample.
Deleting Contact Lists
Click the dropdown next to the desired contact list.

Click Delete.
Effects of Deleting Contact Lists
Warning: Contact Lists are not retrievable after you delete them. Do not delete a list unless you are totally sure you don't want it anymore!
If a respondent finishes their response before the list is deleted, their information is still attached to their response. This includes embedded data and contact information such as first and last name.
If a respondent does not click the link before the list is deleted, the survey link will be deactivated. The respondent will receive the message, "The URL is incorrect. Please double check the URL and try again."
The name of the contact list will be removed from the Distributions tab, and the distribution history will be blank.

Filtering & Sorting Contact Lists
By default, you can toggle between viewing all your lists, your contact lists, or your samples by using the Filter By dropdown. You can also search for a specific contact list using the search bar in the top-right corner.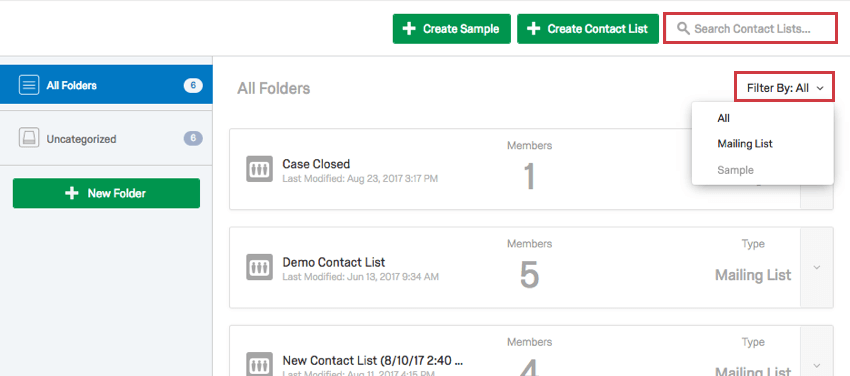 Contact List Sharing
Contact lists are survey-independent. You can send multiple surveys to the same list, or send the same survey to multiple lists. As such, contact lists are shared separately from surveys. However, this also means that when you share a survey, your collaborators do not automatically have access to the contact lists in your library. So how can you make it that each of your collaborators have access to the same contact lists?
Many organizations choose to set up user groups to facilitate content sharing. For each group you are a member of, you will see an associated group contact lists view where you can access lists shared by all group members.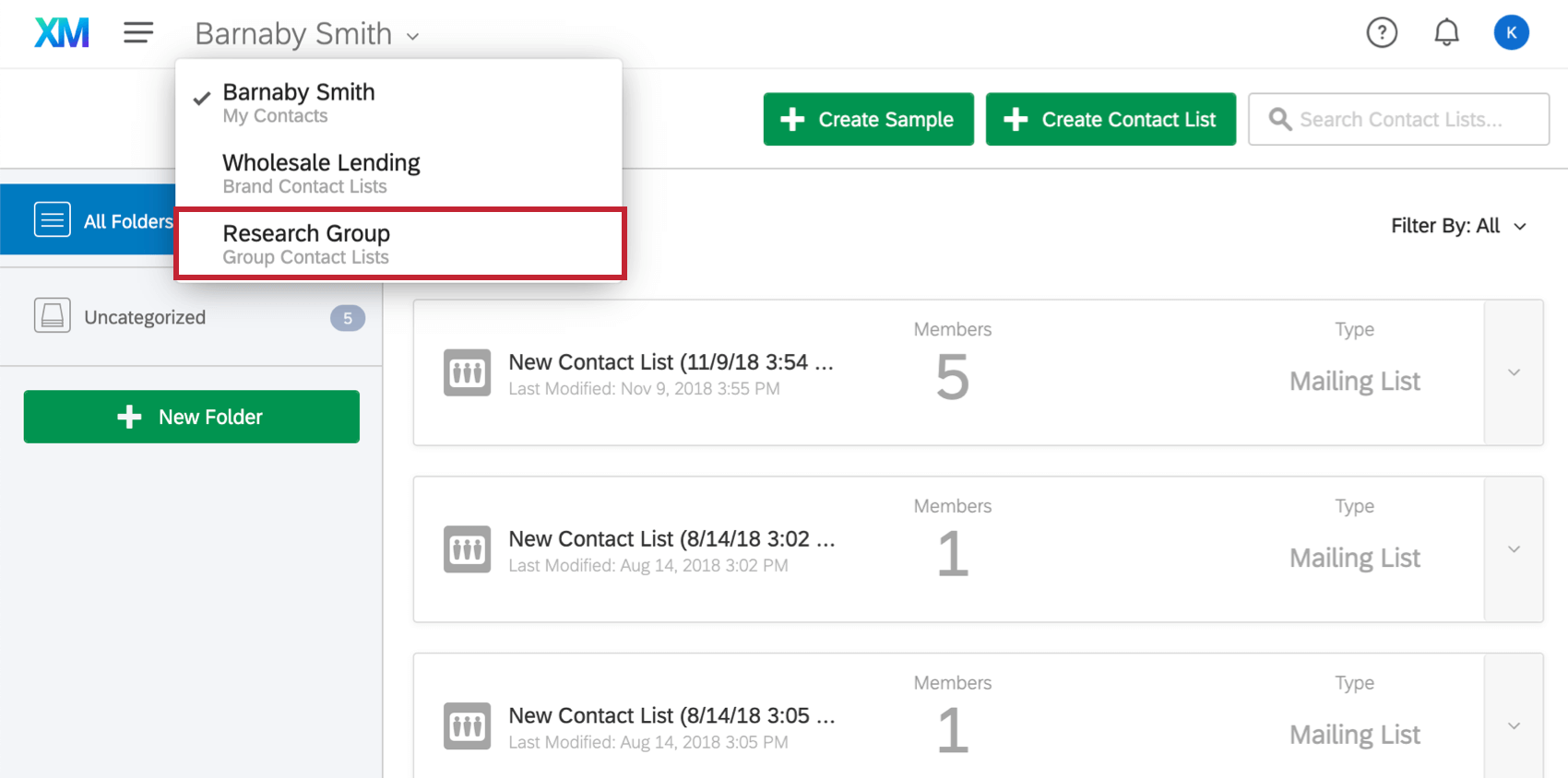 Depending on the specific permissions of the group, you may also be able to view, edit, and use lists in the group contact lists.
Qtip:
If you would like to edit or use lists in the group lists but are currently unable to do so, please contact your
Brand Administrator
for help.
Sharing a Contact List to a Group Library
Locate the list you want to share with a group. Select the dropdown arrow on the right hand side of the list and choose Move List.

Change the contact list (panel) name, if you would like.
Qtip: If you are using the new user interface, then instead of moving the list to a different library using the dropdown, you will drag the list into the library's folder. This folder can be found by expanding the Shared with Me folder.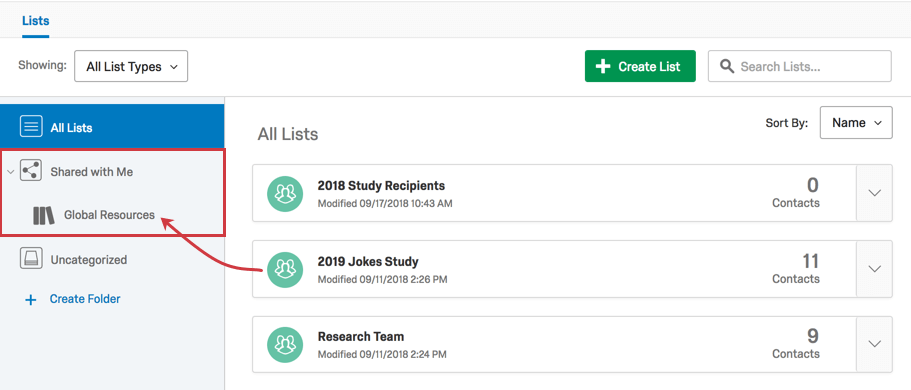 If you would like to try the new user interface, contact your Account Executive.
Related Articles