Customer Experience

Employee Experience

Brand Experience

Product Experience

Core XM

Design XM
Searching, Sorting, & Organizing Mailing Lists & Samples
What's on This Page:
Qtip:
XM Directory is an improvement upon the old Target Audience, with user interface (UI) changes made to integrate more seamlessly with the XM platform. If you do not have XM Directory and would like to purchase access, contact your
Account Executive
.
About Searching, Sorting, & Organizing Mailing Lists & Samples
Once you've created your mailing lists and created some samples, you will be able to manage them on the Lists tab. You will be able to use sorting and searching methods to find lists, then organize them into folders.
Searching Mailing Lists
You can search mailing lists by their names by typing them into the Search bar in the upper-right. You can also limit whether you are seeing all lists or just mailing lists or samples: use the Showing dropdown on the upper-left.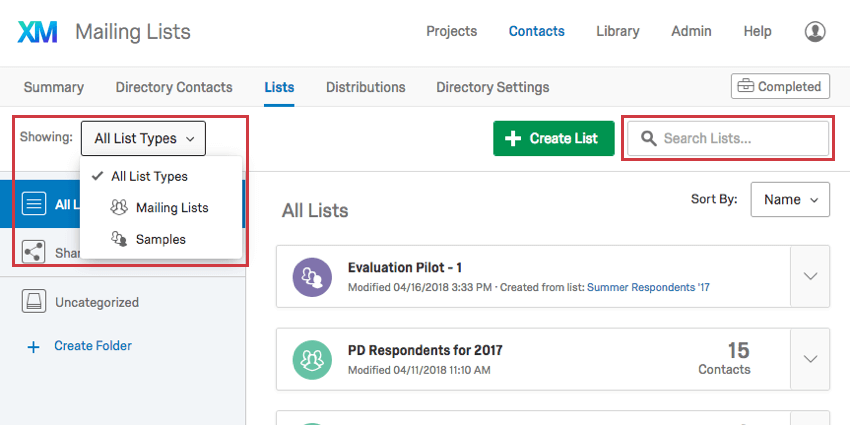 Sorting Mailing Lists
You can sort your mailing lists to make them easier to find. Use the Sort By dropdown on the upper-right. You can sort by:
Name: The list's name in alphabetical order.
Last Modified: The lists in order of those most recently edited. This includes creation, renaming, and adding or removing contacts.
Created Date: The date the lists were created.
Owner: Who owns the list. For more on shared lists, see the Shared with Me Folder section below.
Folders
If you want to organize your lists, you can create a series of folders. Both samples and mailing lists can be added to folders.
If you want to view a folder's contents, select it on the menu on the left. All Lists contains the contents of all folders. Uncategorized contains any list that hasn't been sorted into a folder.
Creating & Managing Folders
Click Create Folder at the bottom of the menu to create a new folder. Then type the name where it says Untitled Folder.
Right-click on a folder in the menu to rename the folder, create another folder within it, or to delete the folder.
You can drag and drop folders to nest them inside each other.
Qtip: If you accidentally drag one folder inside another, simply drag your folder into Uncategorized to take it out.
Sorting into Folders
You can create a list right inside a folder, or you can drag and drop lists into the folders.
Folders are sorted in the menu in alphabetical order and cannot be reordered.
Sharing Lists
You can share mailing lists with users in your brand. But first, you and the user you want to share with must be in a group together. You can see what groups you belong to by expanding the subfolders under your Shared with Me folder.
If there are no groups listed here, or if you don't know who belongs to this group, contact your Brand Administrator to get a group created.
Sharing Existing Lists
Drag and drop lists into the folder of the groups you desire to share with. You cannot share a sample unless the mailing list the sample is taking from has also been shared.
Creating New Shared Lists
Navigate to the folder of the group you wish to share with. Then click Create Shared List. From there, you can create the mailing list and then create samples of it the same way you would if it were created in a different folder.
List Actions
When you click the dropdown next to a list or a sample, you will have several actions to choose from. These are very similar to the options found under List Options.
Mailing List Actions

Sample Actions

Export Contacts: Export your sample. This works just list exporting your mailing list.
Edit Sample: Change the name, sample size, and sampling criteria. Once you click Save and Resample, the sample will be taken again according to the conditions.
Copy Sample: Create a new sample. When you click this option, a window will open with a copied sample and all the same sampling criteria; you can adjust the name of the list, the sampling criteria, and the mailing list being sampled before creating the copy. This is a great way to quickly make multiple similar samples with slight adjustments.
Delete Sample: Delete the sample.