Customer Experience

Employee Experience

Brand Experience

Product Experience

Core XM

Design XM
Custom Calendars (CX)
What's on This Page:
Qtip: This page describes functionality that has been temporarily rolled back. It will be rolled out at a future date.
About Custom Calendars
As a dashboard user, sometimes your data reporting needs to align with specific, custom periods (week, month, quarter, year) set at a company- or institution-level. Custom calendars allow you to specify when time periods start within your dashboard settings, and they can help you set a custom fiscal week, month, quarter, and year.
Example: For example, your financial year may start on July 1, not January 1, and you would like your dashboard to reflect this.
Attention: Note that custom calendars are not project-wide; they will only be available in the dashboard where you created them and in copies of that dashboard.
Creating a Custom Calendar
Click on the Settings icon.
Navigate to the Custom Calendar tab.
Click Save to apply your custom calendar.
Adding a Custom Calendar Dashboard Filter
Once you've set up a custom calendar in your dashboard, you can use it to filter your data.
Create a date filter, and change the Date field to the custom date filter you would like to visualize.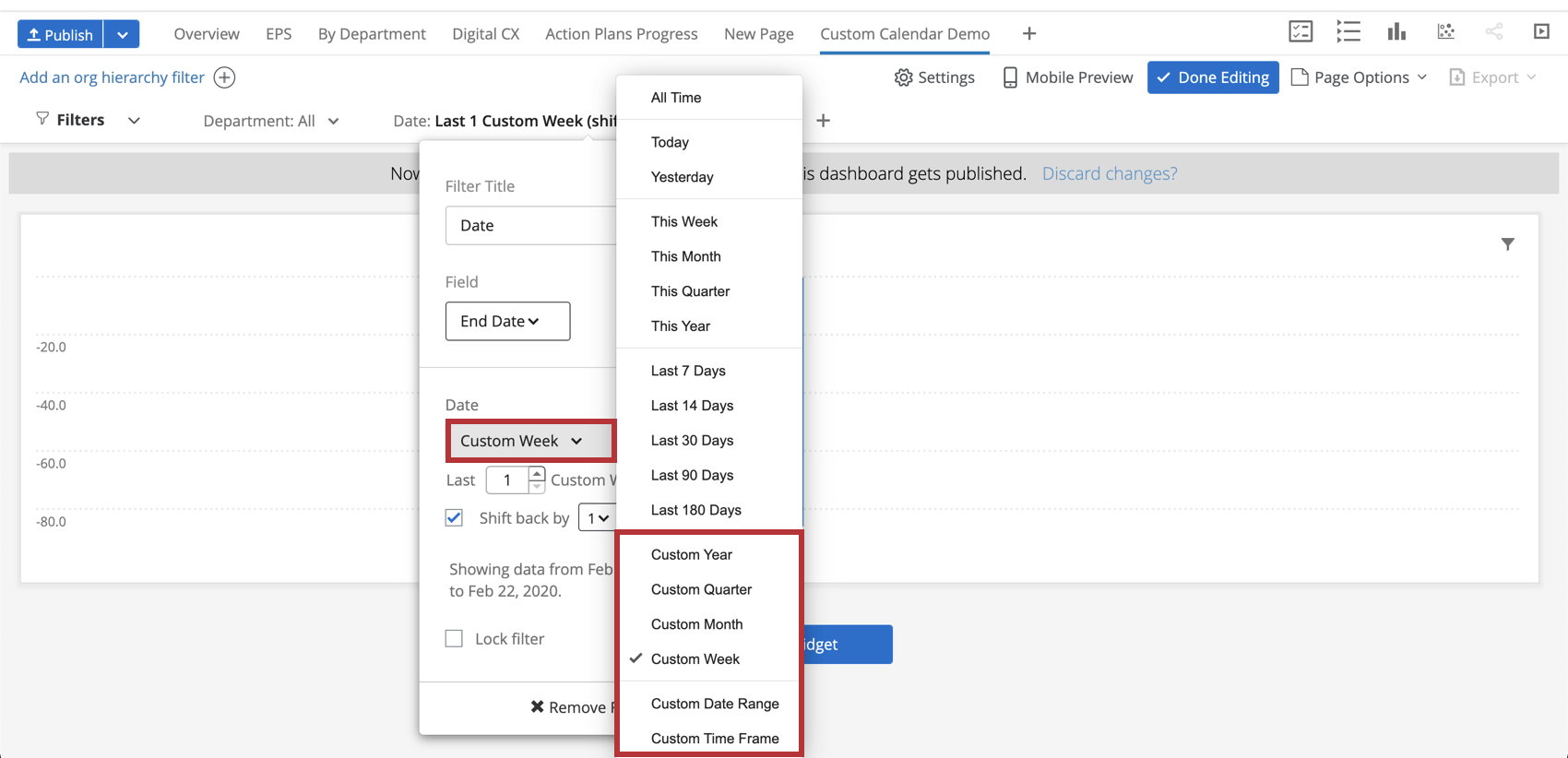 When you add a custom filter, you'll be able to shift the way you visualize your data according to your custom calendar.
Example: In the following example, a custom calendar filter is applied to the dashboard, shifting the time period applied to the page. When this filter is applied, the data matches the custom year specified in the dashboard settings, so the timeframe in the widget starts in February instead of January.
Related Articles