Customer Experience

Employee Experience

Brand Experience

Product Experience

Core XM

Design XM
Action Planning Editor Widget (CX)
What's on This Page:
About Action Planning Editor Widgets
The action planning editor widget allows you to create action plans. Within these plans, you can indicate progress, create sub-tasks, and tag the appropriate dashboard users involved in the initiative.
The action planning editor widget is only necessary if you're using an older version of action planning. Otherwise, you don't need one of these widgets to create and edit action plans.
Qtip:
 Users are given dashboard access and the ability to create or view action plans through roles they are assigned or permissions they are given on an individual level. See
Dashboard Role Data Restrictions
for more information.
Adding an Action Plan
Add an action planning editor widget to your dashboard.

Click Create New Action Plan.


Qtip: Editing mode doesn't need to be turned on in your dashboard to add an action plan.

Specify a Due Date by which the plan should be complete.
Specify the Owner of the action plan by typing in a name and clicking on the user. You can only assign one owner at a time.
You can also add additional fields to your action plans in the Action Plans section of the Dashboard Settings.
Any information added to an action plan is automatically saved.
Managing Action Plans
The action planning editor widget allows you to perform a number of actions with your action plans, including changing the status, removing plans, and more.
Indicating Progress Through Status and Percentage
Assign a status to your action plan by clicking the current status on the far-right of the action plan title.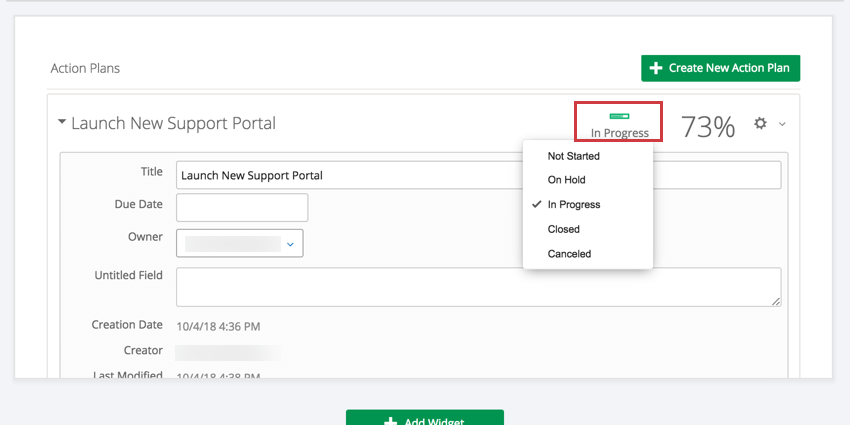 The available statuses are Not Started, On Hold, In Progress, Closed, or Canceled. These can be changed at any time. Changing status does not affect the percentage complete of the action plan.
To change the percentage complete, click the number on the far-right of the action plan title. Then drag the slider to the desired percentage, or type it into the field.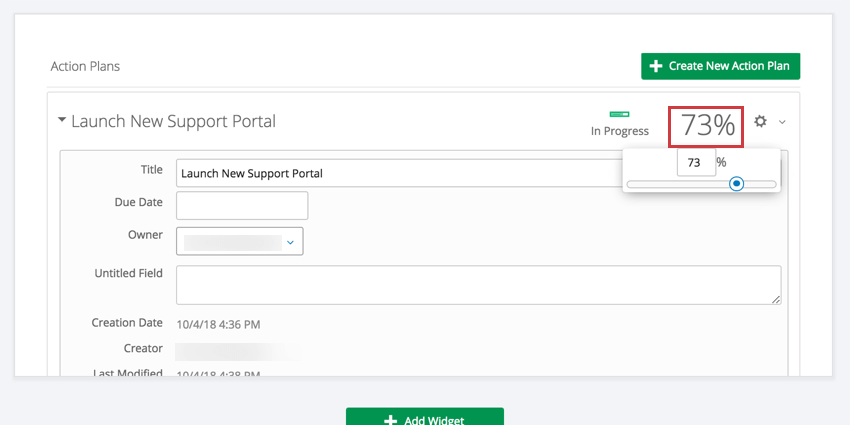 Deleting and Copying Action Plans
Click on the gear to Copy Action Plan or Delete Action Plan.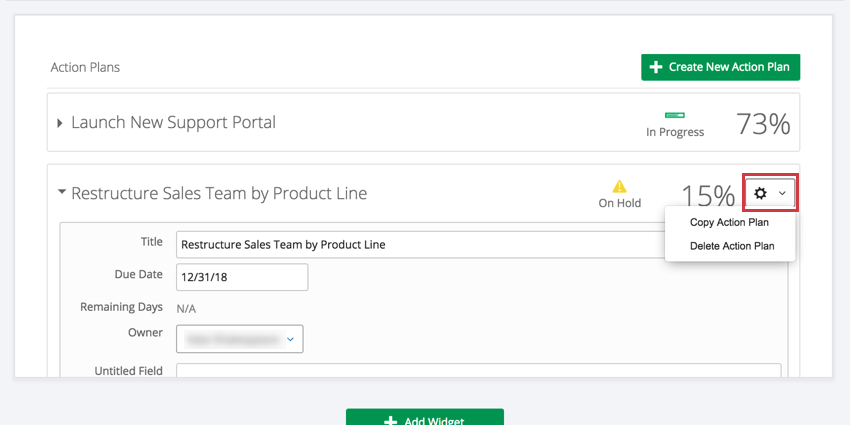 Expanding and Collapsing Action Plans
You can expand or collapse an individual action plan in your list by clicking the arrow next to the plan's name or by clicking on the topmost bar of the action plan.
Once your action plan is expanded, you can edit any of the available fields.
Adding Comments
Once you've expanded your action plan, you can add comments to them.
Type your comment.

Click Send.
Once comments are submitted, the commenter's name will show up next to the date the comment was made.
Comments can be deleted by clicking the X to the left of the comment.
Related Articles