Customer Experience

Employee Experience

Brand Experience

Product Experience

Core XM

Design XM
Contacts Directory (EX)
What's on This Page:
About the Contacts Directory
When you visit the Directories page, you will have two choices. One is the Employee Directory, which gives a list of possible participants for your Employee Experience projects. The second is the Contacts Directory.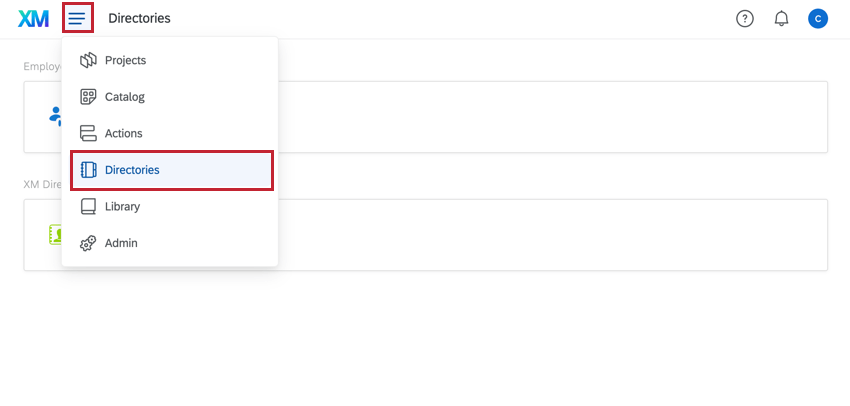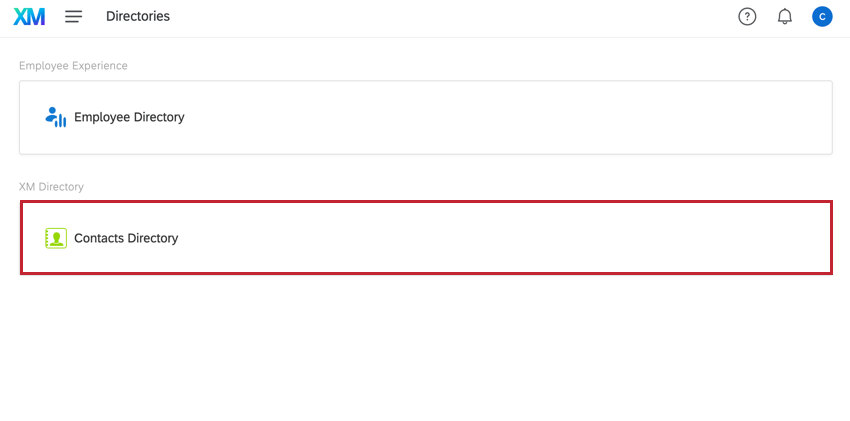 The Contacts Directory is a feature completely separate from the Employee Directory. Instead of containing participants for Employee Experience projects, it contains lists of respondents for the Survey Platform. These respondents do not have any means of managing Qualtrics features like dashboards and participant portals. Someone can be listed in both the Employee and Contacts directory, but a person listed in one directory is not automatically entered in the other.
The specific features available in the Contacts Directory differs based on the software you have purchased.
Qtip:
Interested in any of the options discussed on this page? Contact your Qualtrics
Account Executive
for more information.
Survey Platform Contacts
If you have access to the basic Survey Platform, then your Contacts Directory will lead to the Survey Platform Contacts page. Here, you can build contact lists to which you can distribute your Survey Platform surveys.
Building Contact Lists
Below is a list of the Survey Platform support pages explaining how to build and manage standard contact lists.
Using Contact Lists in the Survey Platform
Below are a few Survey Platform support pages explaining where to use your contact lists within the platform.
XM Directory
XM Directory provides another option for distributing Survey Platform surveys. With XM Directory, you add contacts to an organization-wide directory. You can still build separate mailing lists for distribution, but the directory makes management of duplicates and frequently reused contacts much easier.
XM Directory is unrelated to the Employee Directory. The two are not connected in any way.
XM Directory support pages can be navigated from the menu to the left of this support page. Choose XM Directory, and then navigate to the subject of interest.
Related Articles