Customer Experience

Employee Experience

Brand Experience

Product Experience

Core XM

Design XM
Workflows Basic Overview
What's on This Page:
Qtip: Actions have been renamed to workflows. This is a cosmetic update and there is no change in product functionality. This update will be available in the platform starting the week of August 23, 2021.
About Workflows
Workflows allow you to trigger tasks based on various events. Examples include creating a ticket when someone opts-out of your XM Directory, sending a follow-up email to a customer after a low satisfaction score. For both the inciting event and the resulting task, you have a lot of options, most of which are inside the Qualtrics platform and some of which are outside.
You can create workflows in two different places: in the Workflows tab of a project or in the Workflows page in the global navigation. The Workflows tab is available in survey, Engagement, Lifecycle, and Ad Hoc Employee Research project types. Unless the triggering event of your workflow relates directly to a survey, we recommend starting in the global navigation.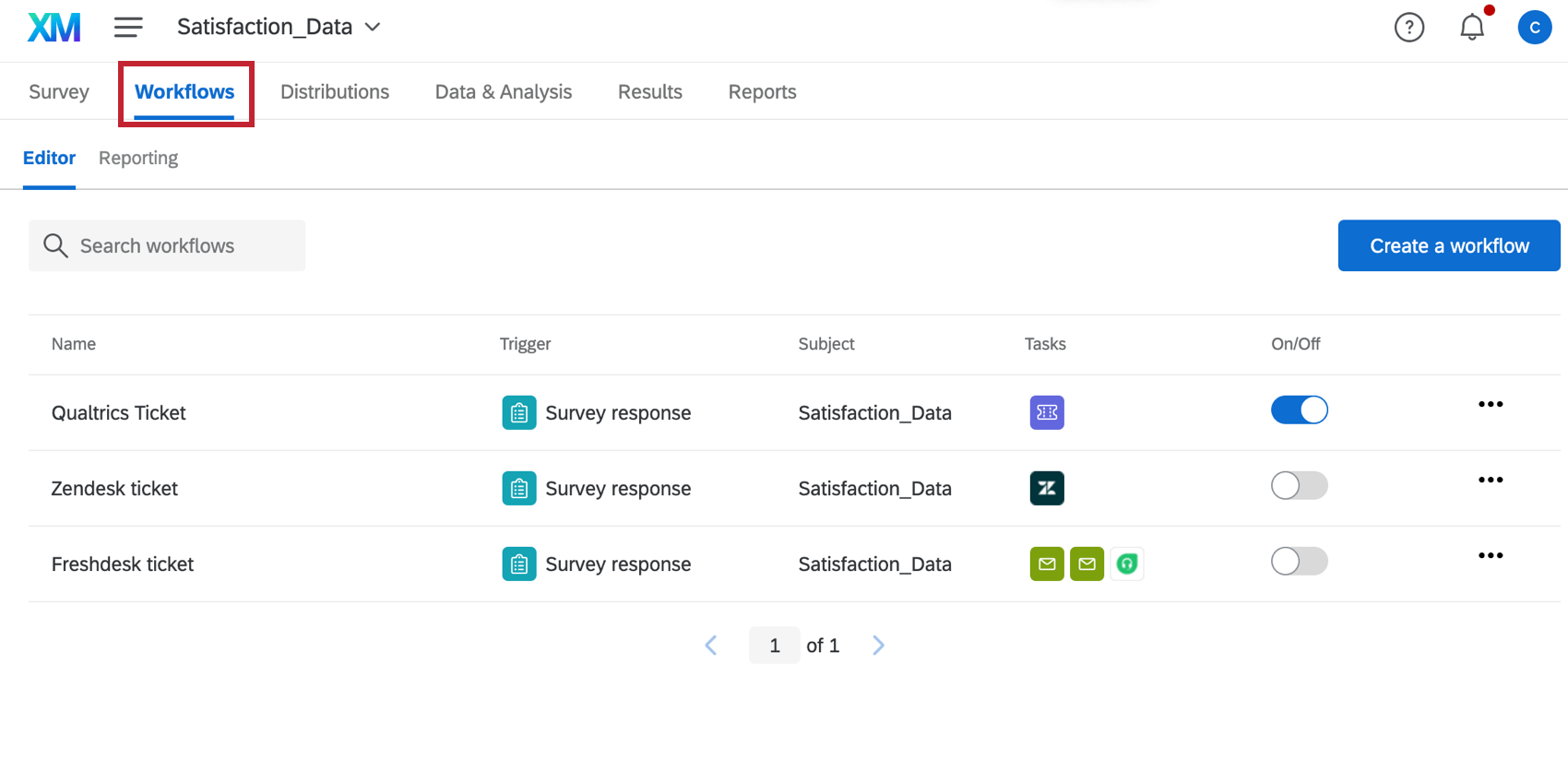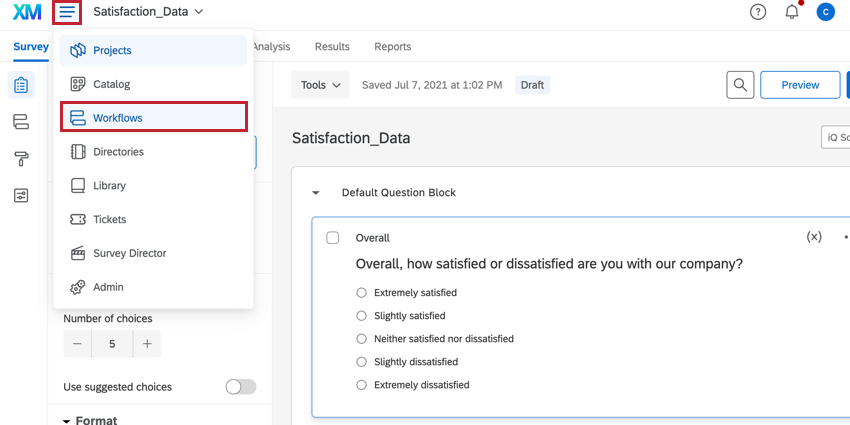 Qtip: This support page will cover information that can be applied to both the global and survey-specific workflows. We will indicate where there are differences.
Using the New Workflows UI
Starting March 2021, the Workflows tab in your survey projects will have a new user interface. This updated interface boasts a variety of improvements, including a more intuitive experience, added search functionality, easier workflow management, and the ability to enable and disable workflows using a simple toggle. This update does not affect the behavior or functionality of any of your existing workflows. Much of the functionality outlined on this page has not changed.
These changes may be familiar to you if you've been using workflows in the global navigation; this update aligns the experience in the two workflow editors. Visit the linked page to learn more about using the new UI, or visit the linked sections below to learn more about specific topics:
Creating Workflows
This section will go over how to create a workflow inside a survey and what the different components (events, conditions, and tasks) mean. While functionality is similar, the look and feel of workflow creation might differ on the global Workflows page.
Pick Editor.
Click Create a workflow to create a workflow from scratch or use a prebuilt template. Alternatively, click the arrow next to the button and choose Started by an event or Started at a specific time to jump-start creating a workflow from scratch.
If creating a workflow from scratch, determine whether the workflow should be scheduled or event-based. For a full comparison of these options, see Scheduled vs. Event-Based Workflows.


Scheduled: Set a schedule for the workflow to be executed over and over again, such as a ticket task being created every Monday, or a survey that should be sent on the first of every month.
Event-based: Tie a workflow to a specific event, such as a survey response being collected, a ticket being reassigned, or something happening in Salesforce.

Alternatively, select a premade workflow in the templates section. See Workflows Templates for more information.
Click Get started.
Name your workflow by clicking the workflow name at the top and typing a new name.

Choose the event that will trigger your workflow, or set the schedule you want the workflow to run on.
If desired, add conditions to your workflow. These are the rules an event must follow before the workflow will actually execute, and can add much-needed specificity. See creating conditions for more information.

Qtip

: It isn't necessary to add conditions to every workflow. If there are no conditions, the workflow tasks will trigger as soon as the event takes place. For example, if your event is

survey response creation

, the workflow will fire every time a survey response is submitted.

Add a task. This is what we want to happen as a result of the event meeting the conditions, such as an email being sent, a ticket being created, or a Slack message being sent. See defining tasks for more examples.
Make sure your workflow is toggled On.
Events vs. Conditions vs. Tasks
When you create a workflow, you indicate the event that should trigger it, the more specific conditions under which that workflow occurs (if needed), and then define the task that is executed as a result.
For example, I want to send an email to the managers every time a customer reports a low CSAT. I also want to create a ticket when this happens, so our support team can address it.
We collect CSAT in a survey – that means the event is the creation of a survey response.
We only care if there's a low CSAT, so the condition is something like, if the response to the CSAT question is 3 or lower, or if "highly dissatisfied" is selected. (This can differ, based on your organization's benchmarks.)
What task happens as a result of these kinds of survey responses? We send an email task to the managers and use a ticket task to make a new ticket for a support rep.
Scheduled Workflows vs. Event-Based Workflows
Workflows can be scheduled, or they can be tied to a specific event. Scheduled workflows are useful when you want a task to occur on a regular basis. Events are most useful if you want to base a task on something specific happening in Qualtrics – e.g., sending an email or making a ticket based on how a respondent filled out a survey. In that example, the survey submission would be the event, and the email or the ticket would be the task carried out.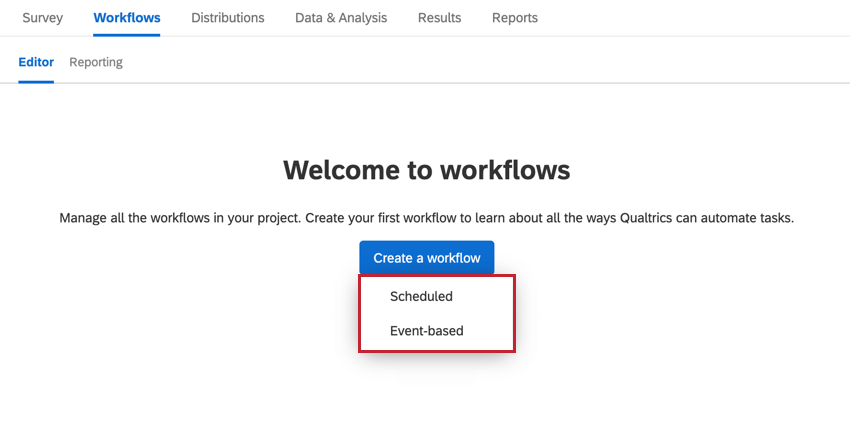 Examples of Scheduled Workflows
Example: I want to get an email every month on the 1st, reminding me to log in and check my survey.
Example: I have a survey where I ask employees to tell their manager how they're doing and flag issues they need help with. I want this to go out to my employee list every Wednesday.
Examples of Event-Based Workflows
Example: I want to create a ticket for my support team whenever a respondent fills out our support survey.
Example: I want to send an email to the sales team whenever a survey respondent selects that they're interested in learning more about our products.
Example: I want to send a survey distribution whenever a ticket is resolved in Freshdesk.
Scheduled Workflows
To create a scheduled workflow, click Create a workflow, and select Scheduled.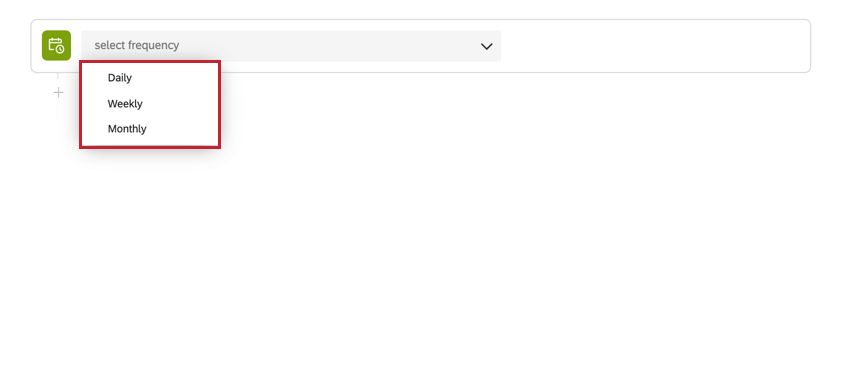 Click select frequency to determine when the scheduled workflow will take place. Your options are:
Daily, at a specific time.

Weekly, on a particular day, at a particular time.

Monthly, on a particular date, at a particular time.

Qtip:
You will be able to select the timezone when scheduling a workflow. By default, the
account's timezone
will be selected.
Qtip: If you choose a date that doesn't exist in every month (e.g., 29, 30, and 31), then the workflow will not occur during those months.
Tasks created in scheduled workflows cannot use piped text. That's because there's no source to pipe information from, unlike in an event-based workflow.
Qtip:
Once you create a scheduled workflow, you can test it immediately (without having to wait until its scheduled deployment) in the global Workflows page. See
manually triggering scheduled workflows
for more details.
Event-Based Workflows
"Events" occur in Qualtrics (or other places) and cause a workflow to start. To create an event-based workflow, click Create a workflow, and select Event-Based.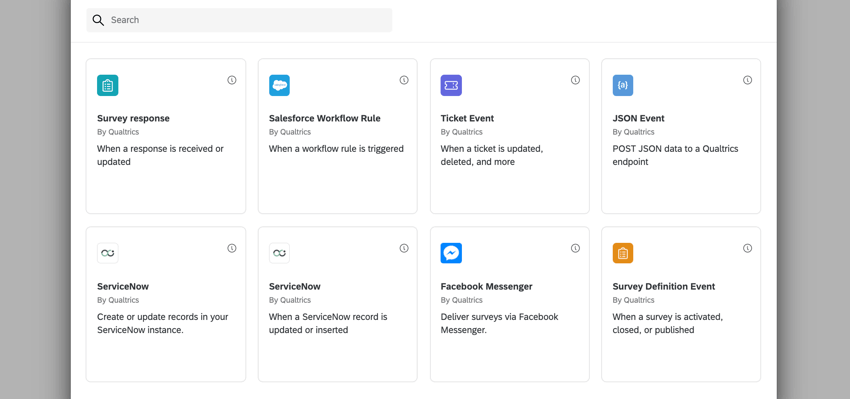 Many events can be used to start a workflow. The selected event will determine what kinds of conditions can be applied to the workflow. You can use the search bar at the top of the window to easily search available events. The events available to you will depend on your license and project. See below for a brief explanation of each event type.
Events Available Everywhere
The events listed below are available to use in both the survey Workflows tab and the global Workflows page.
Events Only Available in Global Workflows
The following events are only available when setting up an event-based workflow through the global Workflows page.
XM Directory Funnel Event: Trigger the workflow based on events that happen in your XM Directory.
Survey Definition Event: Trigger the workflow based on a project's status changing.

Qtip: The survey definition event cannot be used for EX project types.
Creating Conditions
When creating an event-based workflow, you can add conditions to determine more specifically when the workflow should fire. For example, you may not want to send an email to managers about every survey response submitted, but you may want to let them know when the customer indicated low satisfaction. Conditions are built by creating logic statements that use information from the chosen event.
Qtip: Conditions are not required on every workflow.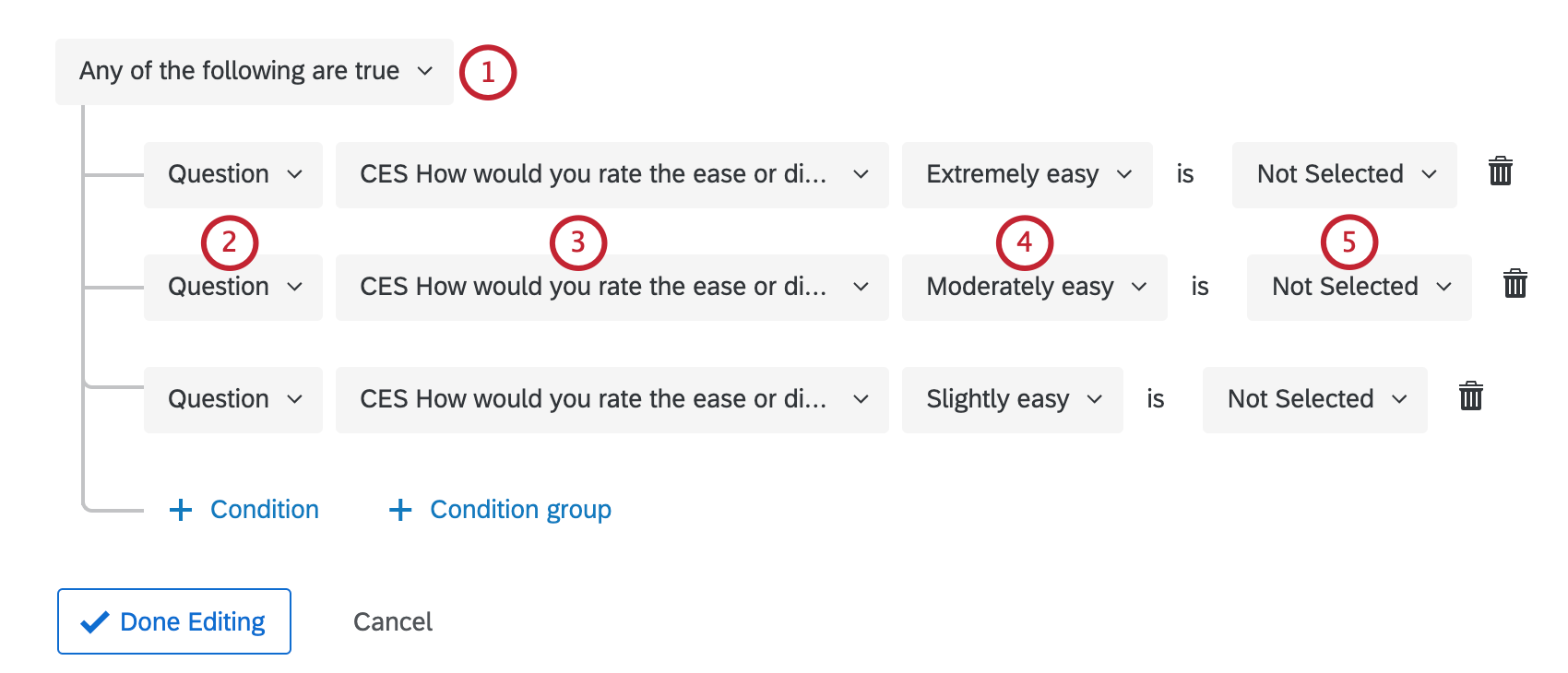 All or Any:

All conditions must be met. Think of this as all the statements in the condition being linked by "And."
Any condition can be met. Think of this as all the statements in the condition being linked by "Or."

Condition Type: This varies based on the event you chose. For example, if your workflow is based off survey responses, then your conditions can be based on question answers, embedded data, or quotas from that survey.

Qtip: 

You'll be able to use survey questions to create conditions if your workflow is based on

survey responses

submitted, but not if you base your workflow on a

ticket event

; in the case of the latter, you can only use information available on the ticket itself, like

ticket data

.

Field: The specific field you are filtering by (e.g., Q1 – How would you rate the ease or difficulty of navigating this website?).
Choice: The specific answer, response, value, etc. that you want to match (e.g., Extremely easy, Detractor, etc.).
Operator: How you want to match the value you set (e.g., Selected / Not Selected, Displayed / Not Displayed, etc.).
You can include multiple condition blocks in a workflow. When the workflow runs, the workflow conditions and tasks will be evaluated in the order they appear in the workflow editor.
Example:
In this example, we are using a workflow to enter survey respondents into a raffle and then email raffle winners. Entrants are automatically identified when taking the survey, and we only want winners to receive an email.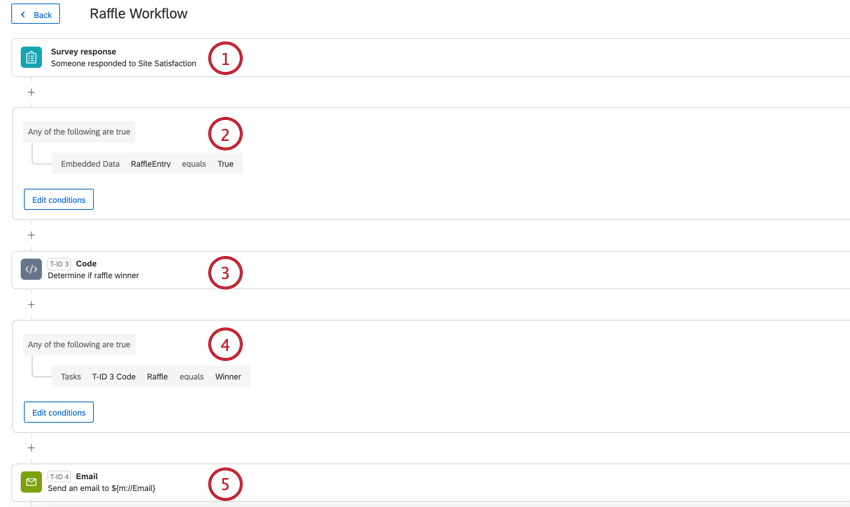 The workflow begins when a respondent submits a survey response.
We add an initial condition to determine raffle eligibility. This happens when the respondent takes the survey, and is specified by the embedded data field "RaffleEntry" is "True".
Next we add a code task, which uses JavaScript to randomly determine if the respondent won or lost the raffle.
We add another condition to determine if we need to send an email to a raffle winner. This condition is dependent on the output from the code task.
We add an email task to send an email to the respondent.
To walk through the process of creating conditions for a workflow, complete the step-by-step below.
In this example, a ticket is created when a Detractor is identified using the NPS question in our survey.

Qtip

: Net Promoter® Score, or NPS, is a customer satisfaction metric on an 11 point scale. Unhappy detractors are grouped from 0-6. Passives are grouped between 7-8 and Promoters between 9-10. Learn more on the

Net Promoter® Score

page.

Create a workflow or select an existing workflow. Make sure it is an event-based workflow.

Select your event. Here, we chose the survey response event and specified that the workflow should happen if a response is created.
Click Add conditions.
Click Condition.
Pick your condition type. In this example, we chose "Question."

Choose a field. In this case, we chose Q2 because it's our NPS question.
Choose a value. Here, "Is Detractor" has been selected, which automatically includes anyone who responded with the 0-6 on an 11 point scale.
Select an operator (e.g., True / False, etc.).
Repeat steps 5-9 as needed to add additional conditions.
To add additional condition sets, click condition group. More on how to use these at the linked page. See also Nesting Logic for more complex conditions.
When finished, click Done Editing.
Defining Tasks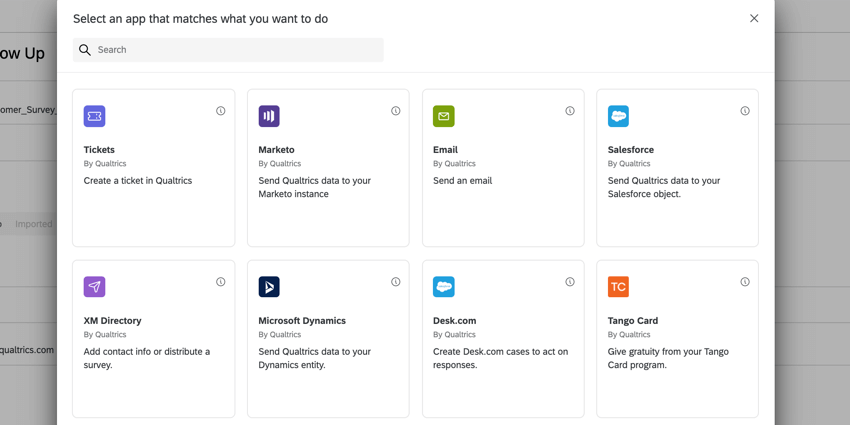 You can add up to 5 tasks per workflow to follow-up on your research and survey responses. Each task type is capable of solving an array of problems. You can use the search bar at the top to search your available tasks. Below are the tasks available to use in your workflows.
Qtip:
Click the
i
icon on a task to get more information about the task. This window also includes a link to that specific task's support page if you need guidance setting up the task.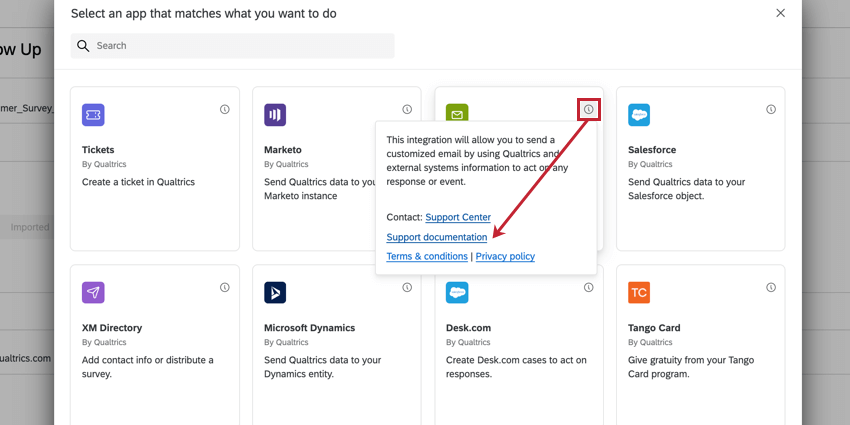 General Workflows Tasks
The below tasks can be used across the Qualtrics platform.
Add-On Extension Tasks
Qtip:
The following tasks require the separate purchase of an extension. If you don't already have access to one or more of these extensions and are interested, check out our
XM Marketplace
.
ETL Workflows
ETL Workflows use data extracting and loading tasks to import data from a third-party source and import into Qualtrics. ETL workflows require you to use certain tasks with each other to complete your workflow. See Using Workflows Tasks to Build ETL Workflows for more information.
The Order of Tasks in a Workflow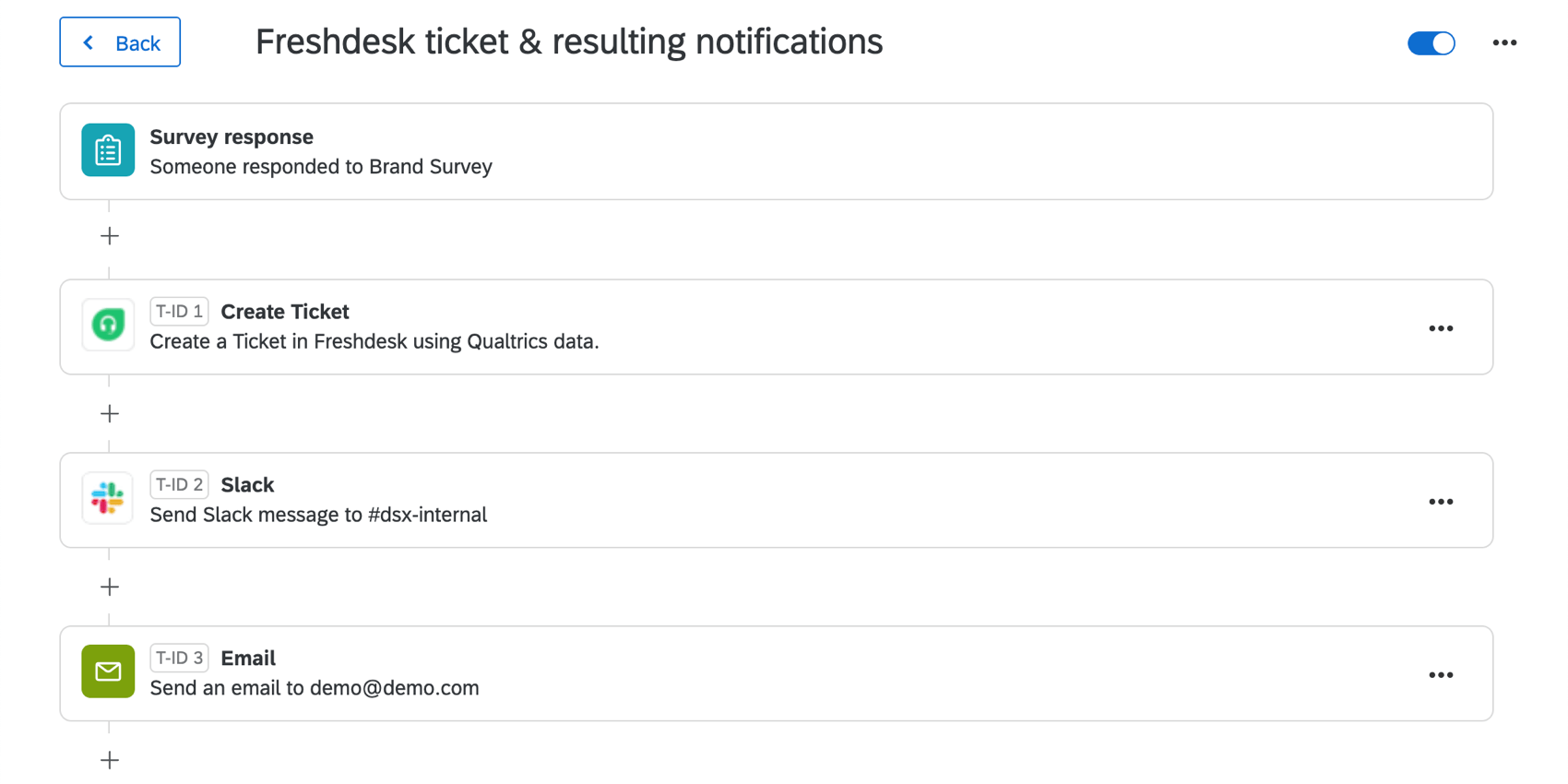 Every workflow can have up to five tasks. The order that these tasks occur is important, depending on the needs of your workflow.
Qtip: In this section, we are talking about the order of tasks in the same workflow. When it comes to the order in which separate workflows are executed, there is no fixed order. There is no way to impose an order on separate workflows – when the criteria for the event or the schedule are met, the workflow will be triggered.
Determining Task Order
Initially, the order of tasks matches the order in which they are created. The newest task is added to the end of the workflow. When an existing task is edited, it is also moved to the end of the workflow.
The workflow also pays attention to what needs to happen first for a task to execute successfully. For example, if you are piping a field from a ticket you've created into an email task, the ticket creation task will happen first, followed by the email where the value is included, regardless of what order you created these tasks.
Qtip: You can click a plus sign ( + ) anywhere in the workflow to add a new task. This does not affect order or placement of the task.
Task IDs
As tasks are created, they are assigned IDs in the format T-ID-#. The ID of a task is set to the order in which it was created.
The ID of a task never changes, and is merely an internal ID to help identify a task. It does not necessarily reflect the order in which a task will be triggered compared to other tasks in the same workflow.
Passing information from one task to another
You can pipe information from one task into a following task. One of the fields you can pipe in is a ticket ID from a task where a ticket is created (for example, Zendesk, Freshdesk, or Jira). This value can be carried into any task that follows, such as an email task or even a Jira field.
Example: I want to create a ticket in Freshdesk, and then pipe the ticket ID into an email that goes to my customer service representative to let them know a ticket has been made in their name. I make sure to set up the Freshdesk ticket task before the email task.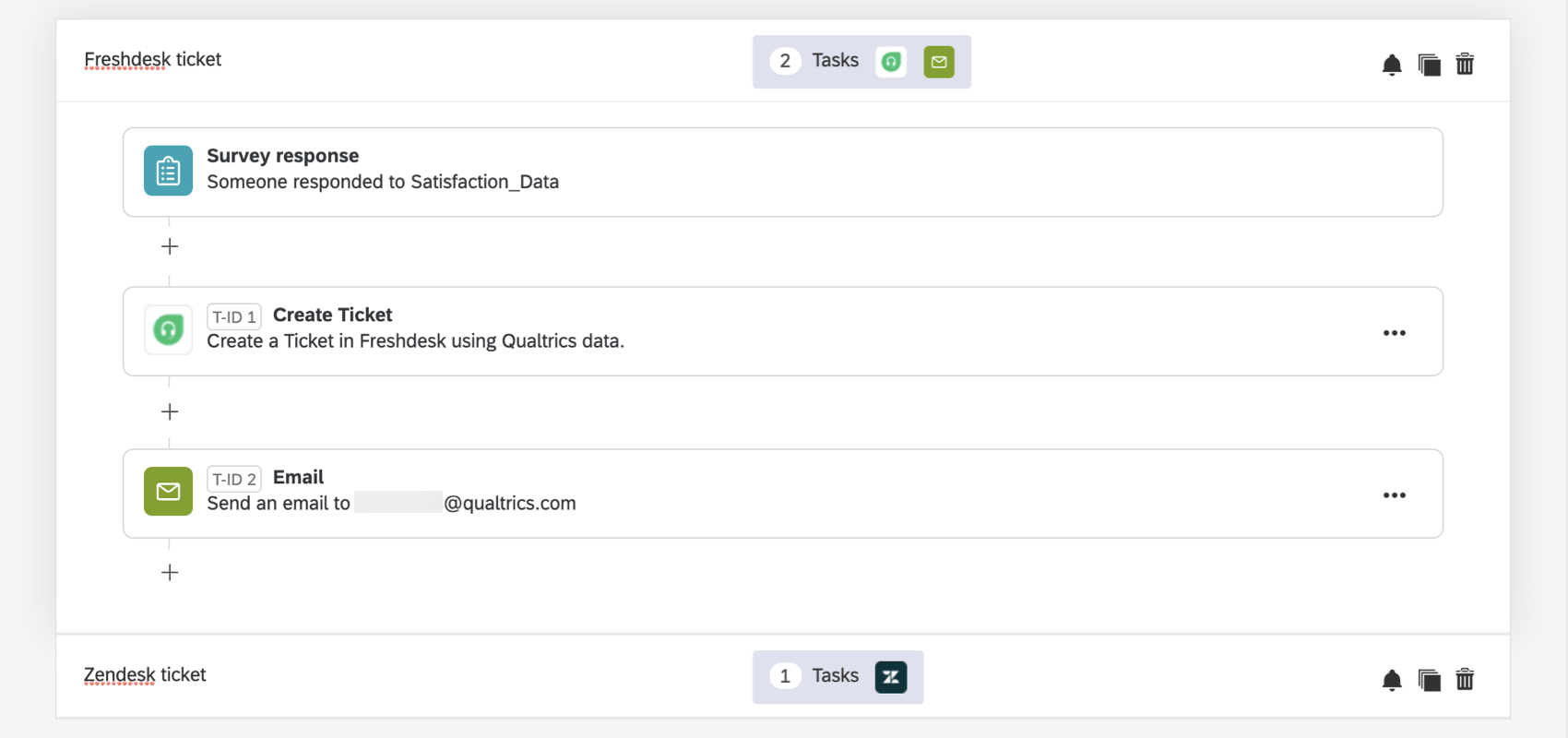 Now when I customize my email task, I have the option to pipe the ticket ID into the email body.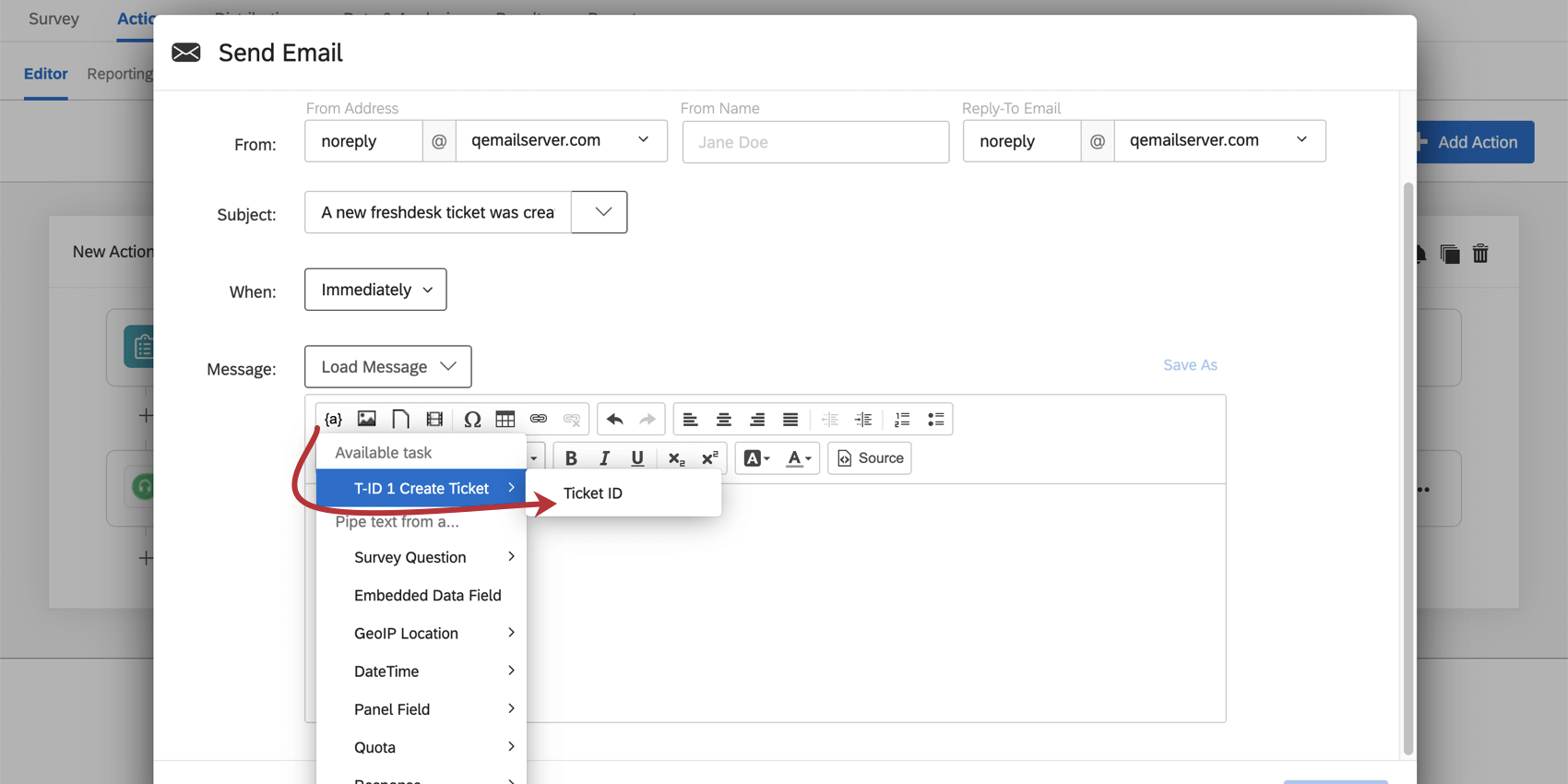 When selecting piped text from a preceding task, take note of the task ID (T-ID-#). This determines which task you're pulling information from.
ETL Workflows
The Qualtrics Workflows platform contains a series of tasks to assist in importing data from third-party destinations into Qualtrics or exporting data from Qualtrics to third-party destinations. These tasks follow the Extract, Transform, Load (ETL) framework. Using ETL tasks, you can create automated and scheduled workflows to bring data from third-party sources into Qualtrics as well as export data from Qualtrics to third-party destinations.
The order of tasks in a workflow is important when using workflow tasks to set up ETL workflows. See the linked support page for more guidance on this specific use case.
Calculating Metrics
The calculate metric task in Workflows allows you to trigger a response to aggregate metrics observed in a dataset over a period of time. In other words, it provides a way to set up automated workflows based on trends or events you observe in experience data. The results of your calculate metric task can be used to trigger other tasks within your workflow.
The order of tasks in a workflow is important when calculating aggregate metrics. See the linked support page for more guidance on this specific use case.
Workflows Templates
Qtip: This section describes functionality that is still in Preview and is not yet available to all users.
When creating a new workflow, you will have the option to use a Qualtrics template. These are pre-configured workflows designed to make setting up useful workflows easy. Workflow templates are created by our Qualtrics subject matter experts to leverage industry standards for workflow automations.
Example:
The
Import Salesforce data into XM Directory
template combines an
extract data from Salesforce task
and a
load data into XM Directory task
in a guided setup to easily import data from Salesforce to save in your Qualtrics XM Directory.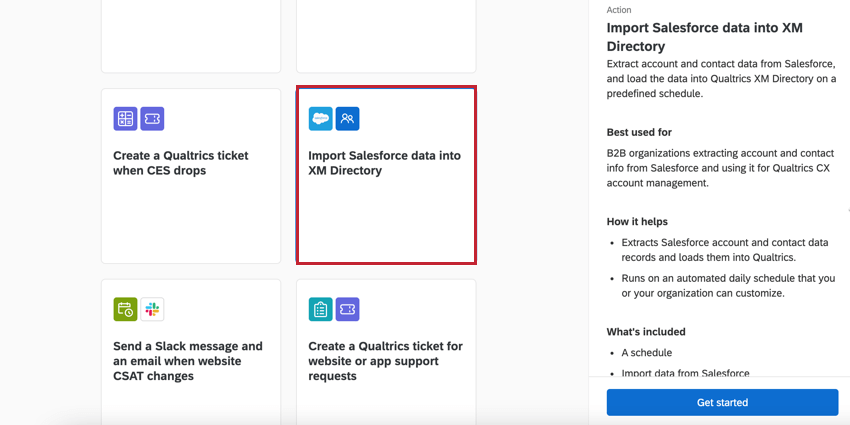 Using Templates
From the workflow tab of a project or the global Workflows page, click Create a workflow.

Templates will be listed below the "from scratch" section. There are many different workflows available based on various outcomes, so take the time to find the workflow that works best for your goals.

When you've found the template you want to use, click on it.

In the side panel, review the overview of the template. This will contain a general description of the workflow, what it's best used for, how it helps your organization, and what's included in the template.
When you're ready to continue, click Get started.
You'll be brought to a guided setup to configure the workflow. Use the Step-by-step instructions to help you set up the workflow. Visit the linked support pages in the instructions to learn more about each item in the workflow.

Click the different items of the workflow to configure each one.

Qtip: Outstanding workflow steps will be highlighted.
Example Templates
Below are a few example templates. This is not an exhaustive list of available templates. Log into the platform to begin exploring all of the options available to you.
Qtip:
Use the search at the top of the Catalog to find and search templates. You can search by keywords in the template. For example, search "ticket" to find all templates that use ticket tasks.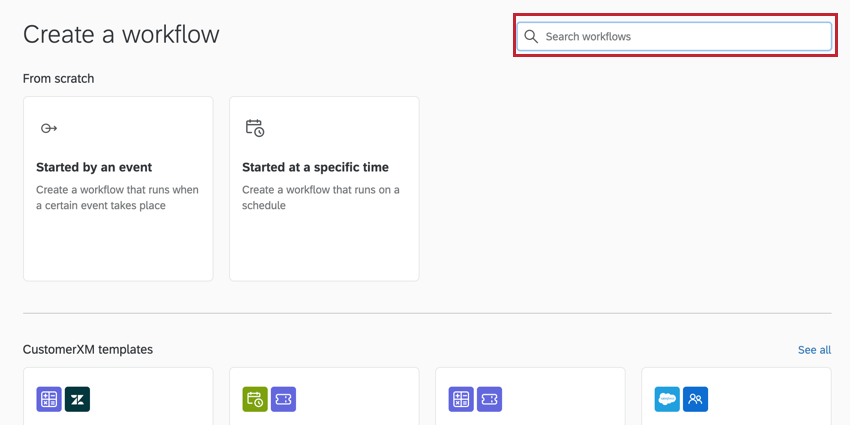 Managing Existing Workflows
You can create as many workflows as you need, knowing they will be organized neatly under the Workflows tab in the Editor section. From this section you can:
Use the Search workflows bar to search your workflows. You can search by the workflow name, or by the workflow's event and tasks.

Use the On/Off toggle to enable or disable your workflow.
Click the three dots to open the options menu. Your available options are:

Edit: Opens the workflow editor for you to edit the workflow's event, conditions, and tasks. While editing your workflow, you can also configure notifications.
Rename: Allows you to change your workflow's name.
Copy: Copies the selected workflow.
Delete. Deletes the selected workflow. Note that deleted workflows are irretrievable!

When editing the workflow, click the three dots and select Notification settings to set up notifications, which notifications let you know when an event-based workflow fails or a scheduled workflow succeeds.

The Reporting Section
By navigating to the Reporting section of the Workflows tab, you can quickly ascertain the status of all your workflows or filter them by status, so you can look at all workflows that have competed, failed, or timed out. Once you click on a failed task, you'll see more details that can help you troubleshoot the source of the issue.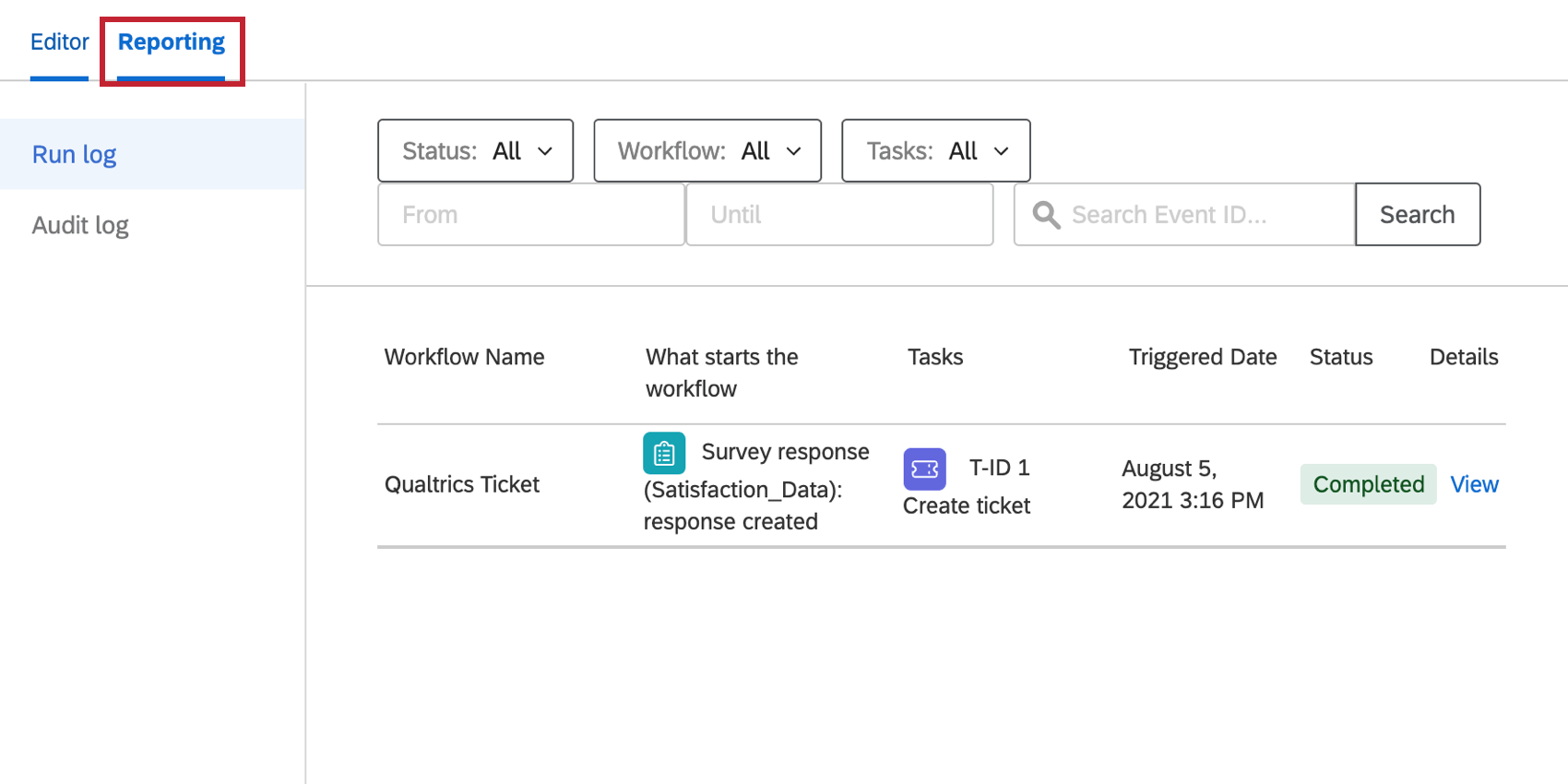 Related Articles