Customer Experience

Employee Experience

Brand Experience

Product Experience

Core XM

Design XM
Submitting a Product Idea
What's on This Page:
About Submitting a Product Idea
Did you know that you can have an impact on the Qualtrics product? You can leave feature requests for our product team to consider when planning the future roadmap!
As of October 1, 2019, how you file a feature request has changed. We require that you login to Qualtrics XM Community with your Qualtrics account credentials to post a feature request (idea) in the Product Ideas category. To learn more about this process, review the announcements found in the Ideation Guidelines subcategory of Product Ideas on the community.
Warning:
You must be logged in to
Qualtrics XM Community
to view
Product Ideas
. If you login to community and do not see the Product Ideas category, you are using a free account. Only users with a paid Qualtrics account are able to submit, view, and upvote / downvote ideas in the Product Ideas category. Contact
Sales
 if you'd like to learn more about upgrading to a Qualtrics license.
Creating A Qualtrics XM Community Account
Qtip:
If you already have a Qualtrics XM Community account, go to the next section,
Posting a New Idea
.
Navigate to http://community.qualtrics.com/XMcommunity.
Enter your Qualtrics account credentials.

Click Sign In.
Qtip: If your organization uses SSO, select Sign in with SSO. You will be redirected to your organization's login portal and prompted to fill in your credentials. If you are not redirected to your login portal, you will be asked for your email address and a link will be sent to your email with next steps.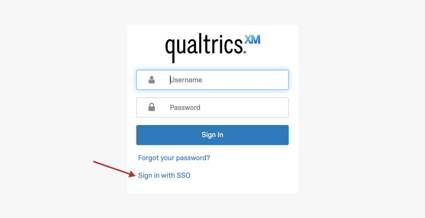 Using Advanced Search to Find an Idea
Sign in to Qualtrics XM Community.
Use the search bar to see if your idea has already been posted.

Select Ideas under What to Search.
Click the Filter button.
Click Search. The new search results will now only display ideas.
Posting a New Idea
Sign in to Qualtrics XM Community.
Use the search bar to see if your idea has already been posted. Follow the steps in the section above to ensure you only yield results with ideas.


Qtip: If your idea has already been posted by another user, please do not create a new post. Instead, upvote the existing idea, and leave a comment explaining your specific use case.

If your idea has not been posted, select Product Ideas from the navigation bar on the top of the page.

Click the dropdown arrow and select New Idea.


Qtip

: If you are not sure which category to post your idea in, you can review the

Product Areas Guide

.

Select a category.
Enter a title for your idea.


Qtip: Be sure your idea's title is short and concise. This is how users will be able to search for your idea.

Fill in the bulk of your idea.
Add tags for your idea. For example, if your idea is about changing the design of a widget for CX Dashboards, you may want to use tags like Widget, CX Dashboard, Visualization, Widget Design.
Click Save to post your idea.
Upvoting, Downvoting, and Providing Feedback on Ideas
If you do not have new ideas you would like to post on Qualtrics XM Community, you can still help shape the future of the product roadmap by upvoting, downvoting, and commenting on ideas.
Sign in to Qualtrics XM Community.

Select a Product Area you'd like to focus on.

Upvote or downvote an idea by clicking on the arrows displayed in the idea counter box.


Qtip: By default, you will be notified when your idea's status changes and when the status changes of an idea you've voted on. To change these preferences, go to your community profile, select the profile dropdown icon to the right of your name, and click Edit Profile. From there, select Notification Preferences from the menu on the left side of the page and adjust the settings as needed. Scroll down to the bottom of the page and select Save Preferences.

If you would like to provide additional feedback on an idea, click the title.

Scroll to the bottom of the post and write your feedback.

Select Post Comment.
Related Articles