Customer Experience

Employee Experience

Brand Experience

Product Experience

Core XM

Design XM
Action Plan Users Widget (EX)
What's on This Page:
About Action Plan Users Widget
The action plan users widget shows a list of users who have permission to use action planning. Users will also be able to view the email addresses, unique identifier, and other associated person metadata for each of these users. This widget can help organizations track managers that are using action planning and managers who have not created or do not own action plans, to be able to drive more accountability and action.
This widget can only be added to action planning pages of a dashboard.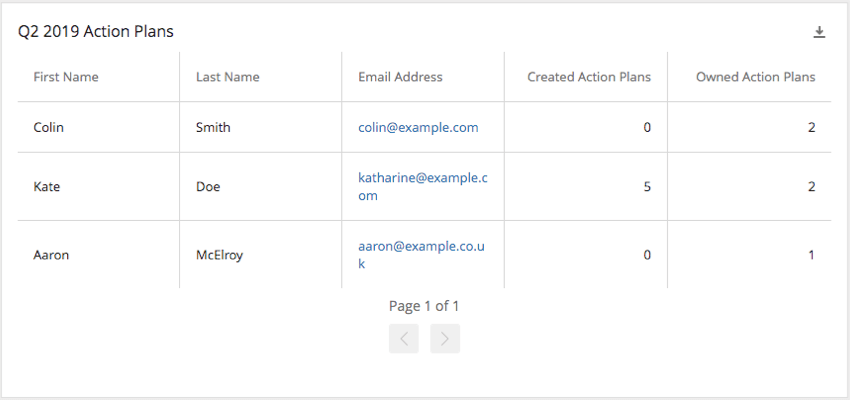 Qtip: For now, this widget is only available on dashboards created after August 15, 2019.
Widget Customization
By default, the action plan users widget will display all users with action planning permissions, and list their first name, last name, email address, org units, how many action plans they created, and how many action plans they own. However, it's possible to customize these options.
Qtip:
The count of action plans looks across all of the action plans you create or own, regardless of the
org hierarchy
the action plan is assigned to.
Attention:
The action plan users widget can export data for up to 10,000 users in a single export. If you need to export more than 10,000 action plans, consider breaking them up into multiple exports using
org hierarchy
filters
. By doing this, you'll be able to export different sections of your organization at a time.
Columns
Click Add Column to add another column. You have the following options:
First Name
Last Name
Email Address
Created Action Plans
Owned Action Plans
Org Units
Employee ID
Any additional person metadata in your project
Click on a column name to rename it, change the field being pulled in, or remove it.
Highlight over a field and drag the icon to move a column.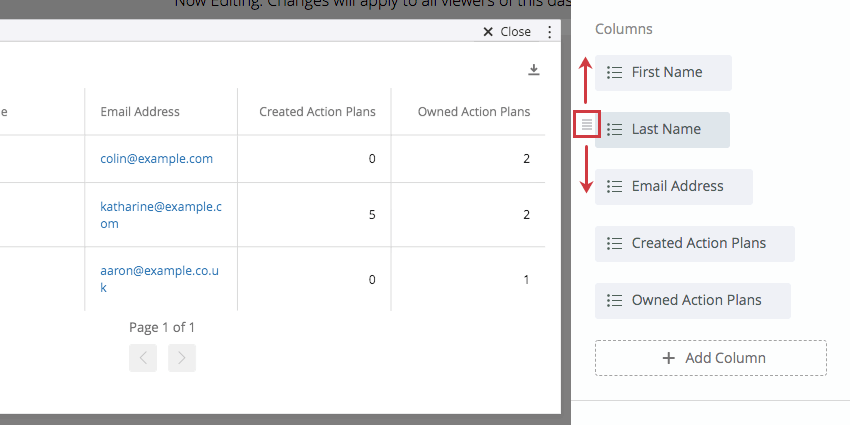 Qtip: You can click and drag the borders of the columns to resize them as needed. Rows cannot be resized.
Show the Following Users
By default, the widget shows all users who are able to create or own action plans, regardless of whether they currently do either. However, the options in this section allow you to narrow down what is displayed in the widget.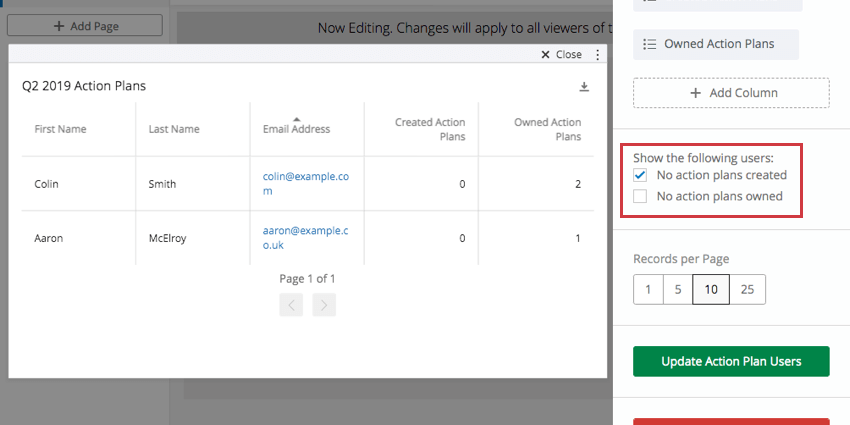 No action plans created: Only show users who have not created action plans.
No action plans owned: Only show users who do not own any action plans.
These options can help dashboard owners figure out the members of their organization that they need to follow up with.
Records per Page
Determine the number of users displayed on a widget before new pages are created.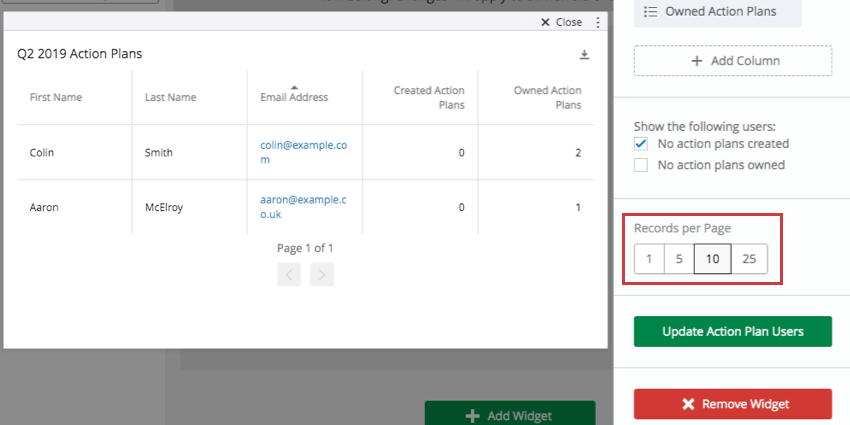 Pages of users can be navigated by clicking the arrows at the bottom of the widget.
Update Action Plan Users
There are a few situations where you will need to update the action plan users widget:
Participants' action planning permission change.
The project's org hierarchy changes.
To make sure the widget reflects these changes, press the Update Action Plan Users button.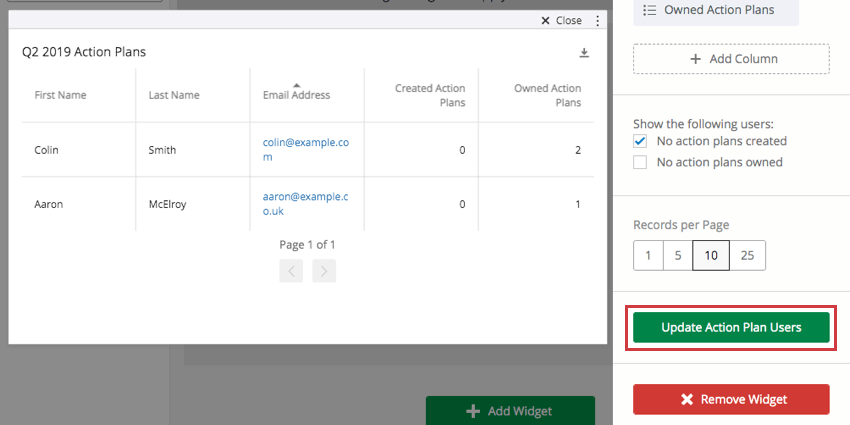 Filters
The action plan users widget will only respond to org hierarchy filters. This widget does not respond to other filters on the action planning page, and it does not have the option for widget-level filters.
Related Articles