Customer Experience

Employee Experience

Brand Experience

Product Experience

Core XM

Design XM
Message Automation (EL)
What's on This Page:
Qtip:
This page describes functionality available to Lifecycle projects, but not Engagement or Ad Hoc Employee Research projects. For more details on each, see
Types of Employee Experience Projects
.
About Message Automation
With Employee Lifecycle projects, you can automate it so that any participants in your participant list who have not already been sent the Lifecycle survey invite will receive one. You can even specify what time of week these invites are distributed.
Qtip:
You can only automate 
Participant Invites
through this feature. For automating participant reminders, read our page on
Participant Reminders
.
Attention: Automated participant invites will send to all participants in your project who have yet to receive an invite, regardless if their project status is marked as Complete. It is not recommended that you import responses into your Lifecycle project if you intend on using Message Automations.
Setting Up Message Automation
Navigate to the Messages tab in your project.


Qtip: Make sure you have Participant Invites selected in the Email Messages section.

Click Setup Message Automation.
Select the day of the week, time, and timezone for when survey invites are sent out to participants in your participant list.

You can also choose to receive a confirmation email each time the Message automation runs. Select Send confirmation emails to and enter your email address. You can list multiple separated by commas.
You have two options when closing out:

Click Save Automation to save your criteria without enabling the automation.
Select the Activate Automation checkbox, then click Save Automation to immediately activate your automation.
Managing Past Message Automations
Whenever you are in the Participant Invites of your Messages tab, you will see all past Message Automations listed along the top.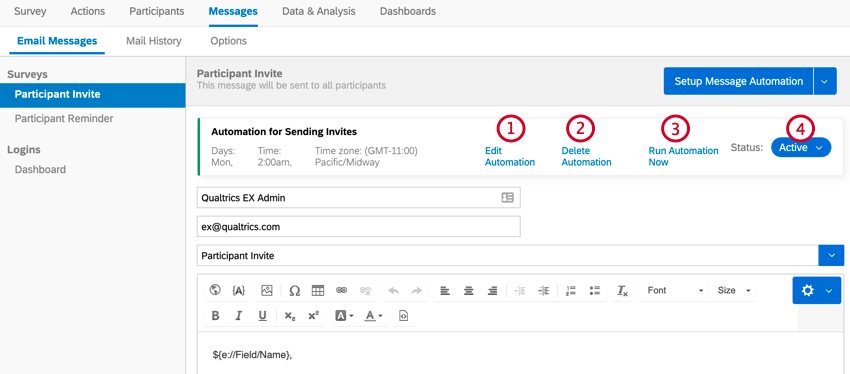 Edit Automation: Edit the automation, changing the date and time.
Delete Automation: Delete the automation permanently.
Run Automation Now: Manually run the automation. This is useful for testing your automation conditions, or if you need an ad hoc distribution.
Status: Change the status of the automation. If Active, it will run automatically on the dates and times selected. If Inactive, it will not run on the dates and times selected, unless you reactivate it.
Qtip:
If you'd like to send a one-off survey invitation separate from your automation, see the
Participant Invite
section of the Email Messages page.
Related Articles