Customer Experience

Employee Experience

Brand Experience

Product Experience

Core XM

Design XM
Admin Basic Overview
What's on This Page:
About the Admin Page

To access the Admin page, you need to be a Qualtrics administrator. There are two admin user types with different levels of authority:
Brand Administrator: You can manage all of the Qualtrics licensed accounts for your organization.
Division Administrator: You can only manage the accounts inside a division assigned to you by a Brand Administrator.
Administrative Responsibilities
The Admin page lets Brand Administrators track, assess, and manage how Qualtrics is used in their organization. Admins manage:
User accounts: Create new users and define user types and their permissions
Teams or divisions: Create groups and divisions and empower Division Administrators.
Organization & Security Settings: Control organization-wide settings, create permissions for things such as library and panel access, project access, and project security. Enhanced levels of security are also available for enterprise users.
If you are a Brand or Division Administrator, selecting the Admin page will make these administrative tools available. Each has been previewed below in this overview.
Reports
The Reports tab is the best place to look to figure out usage for your entire license.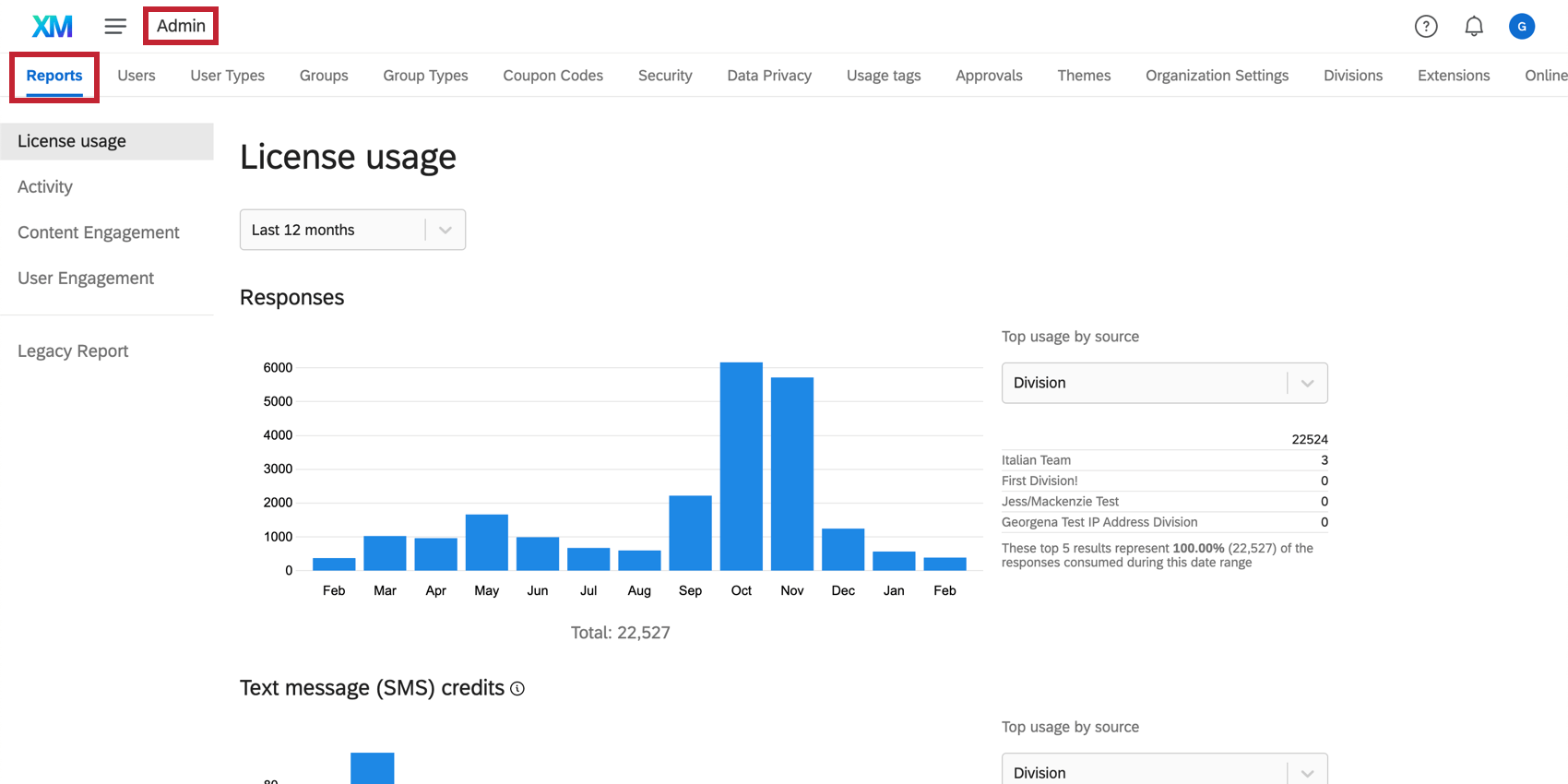 Self-Enrollment Code
The self-enrollment code serves as an extra security measure. For example, if you don't want to restrict the email domains people can use to sign up with your Qualtrics license, you can choose a self-enrollment code instead. This functions as a code new users have to enter when signing up to complete the account.
Qtip:
This option is only available for brands with self-enrollment enabled. This means users don't have to ask a Brand Administrator to make an account for them, but can do it themselves. Not all brands have self-enrollment codes enabled. Reach out to Qualtrics Support (by logging into your
Support Portal
) if you're a Brand Administrator and are interested in having this permission turned on for your organization.
The self-enrollment code is randomly generated and displayed at the top of your admin report as soon as the permission is turned on for your organization.
Qtip:
You may also use
coupon codes
to allow users to self-enroll.
License Usage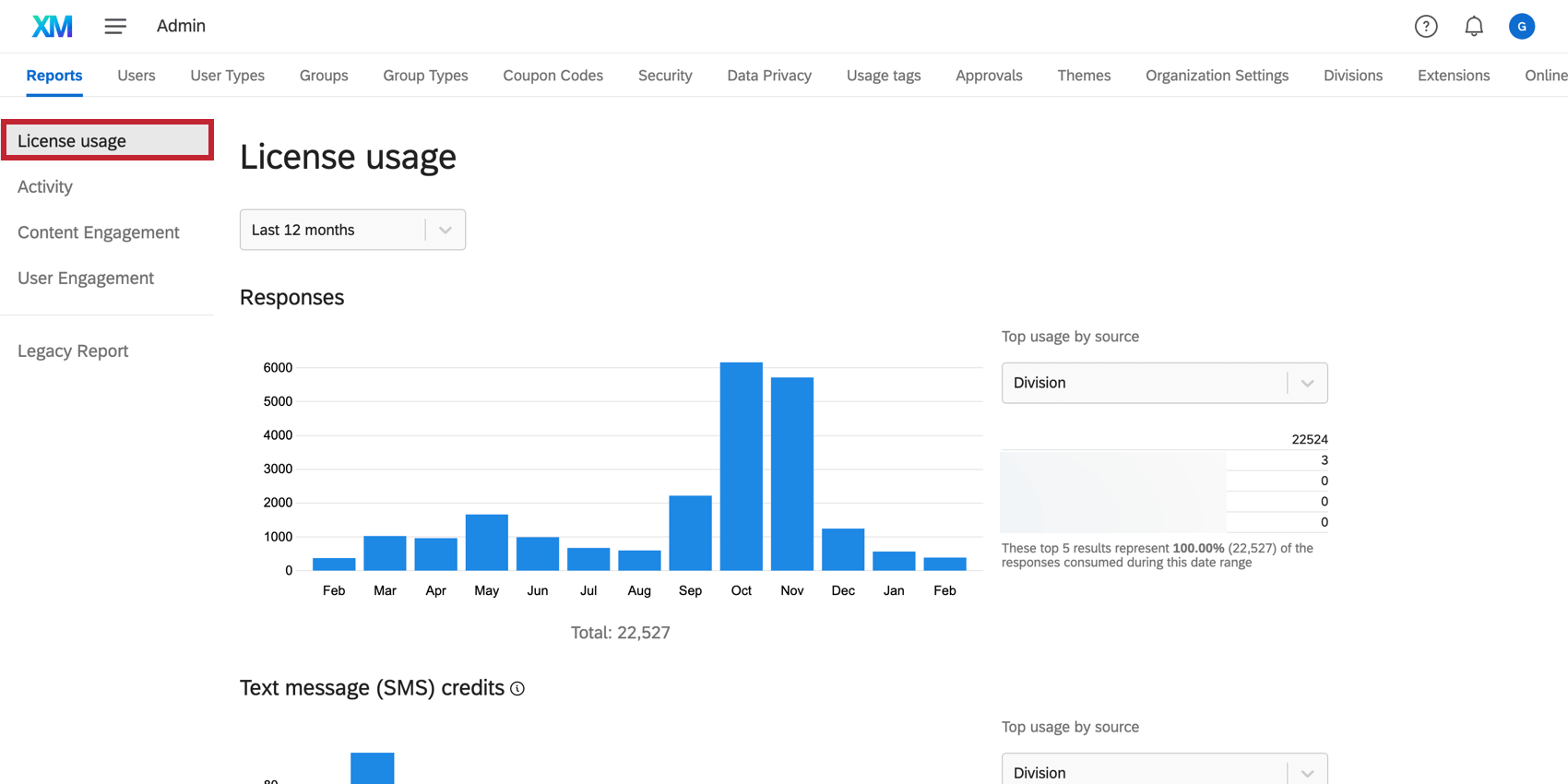 This section tracks the number of auditable responses collected in your license. This includes any responses collected on the Recorded Responses page, except preview data, test data, and imported responses.
If your license has purchased access to
SMS distribution
, this section will show you how much of your available credit you've used.

Activity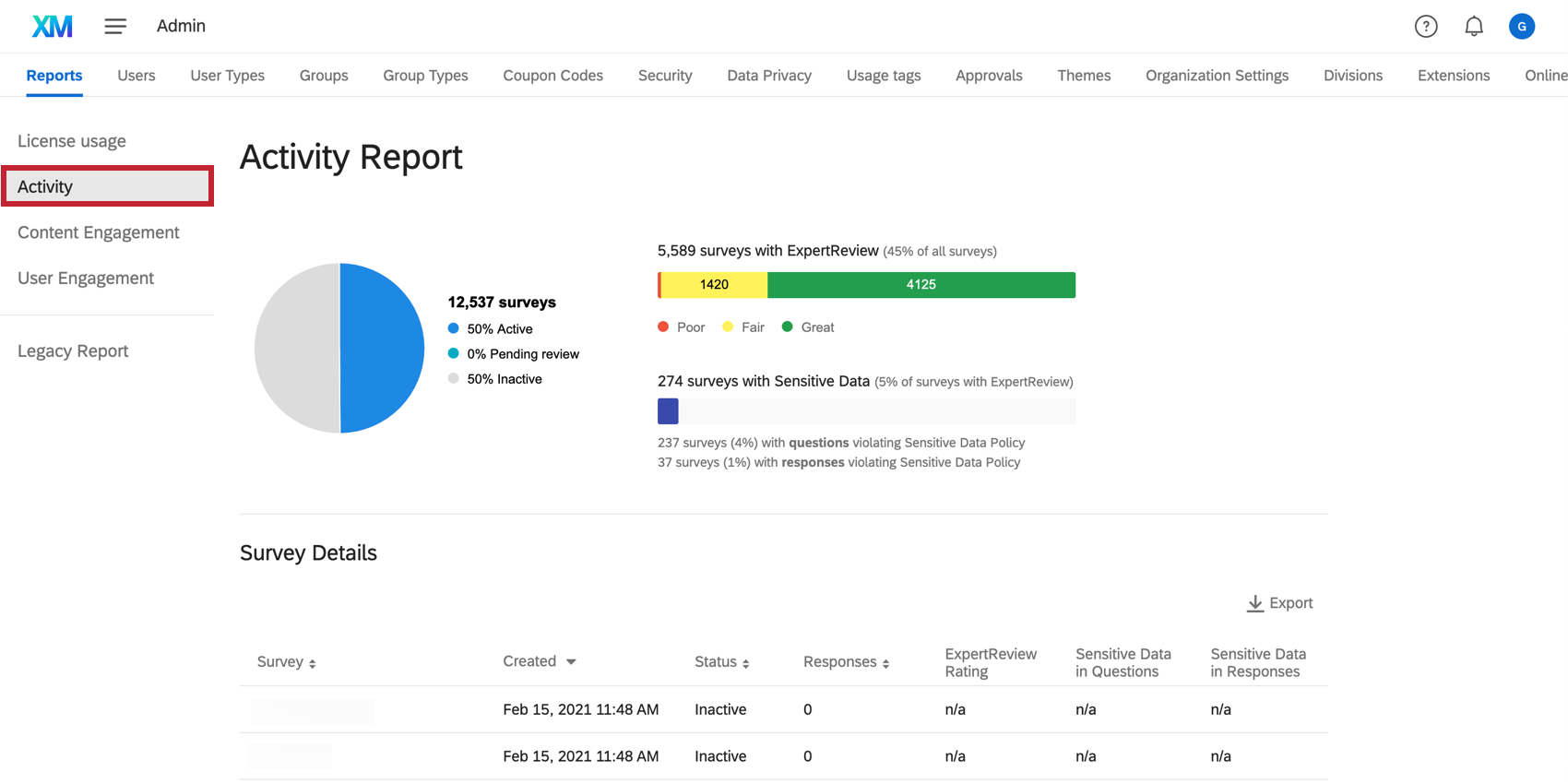 This section counts all the surveys on the license that have a status of new. It will also show the percentage of active and inactive surveys, and any surveys that are pending review.
Content Engagement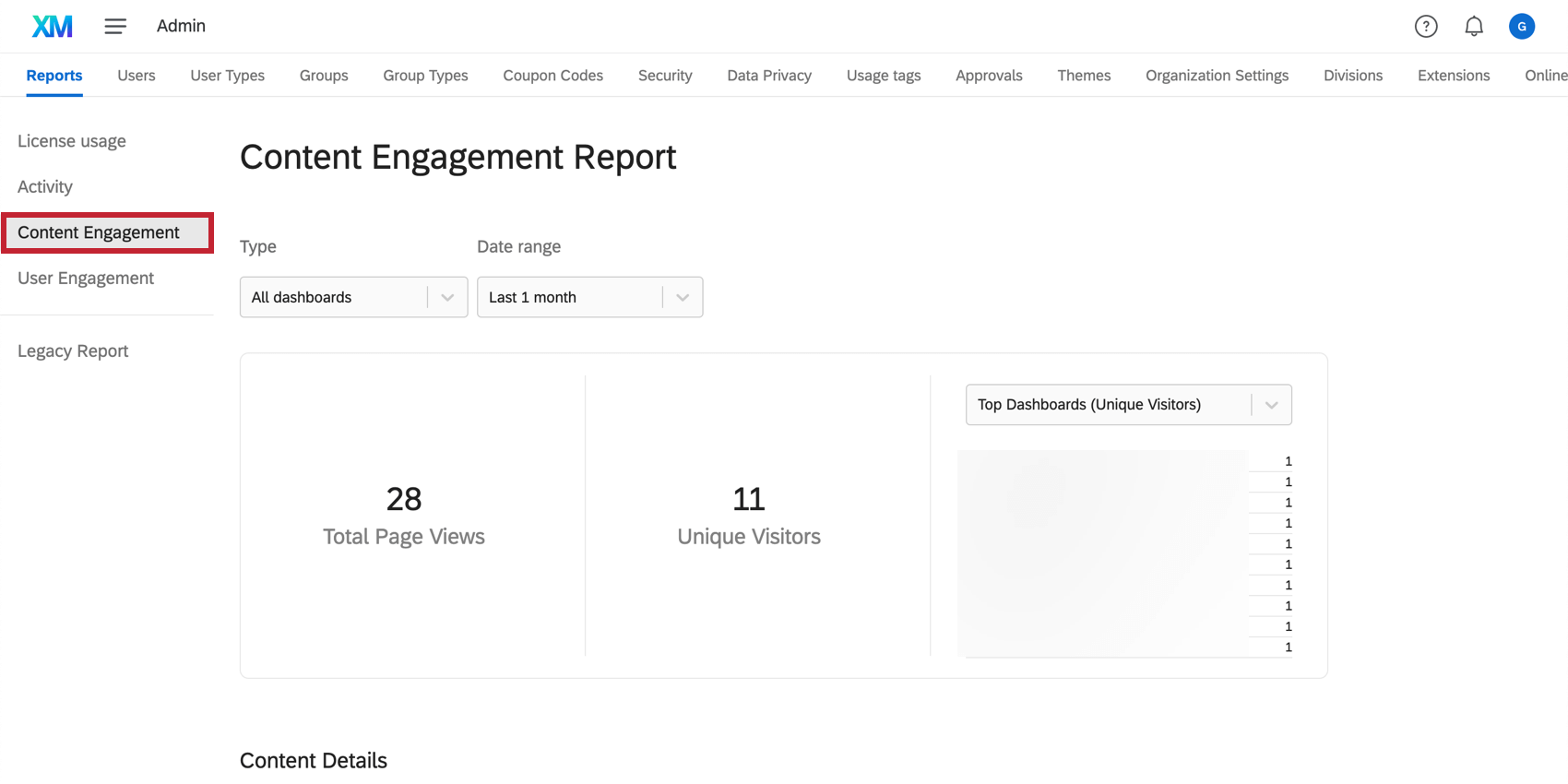 This section counts all dashboards.
User Engagement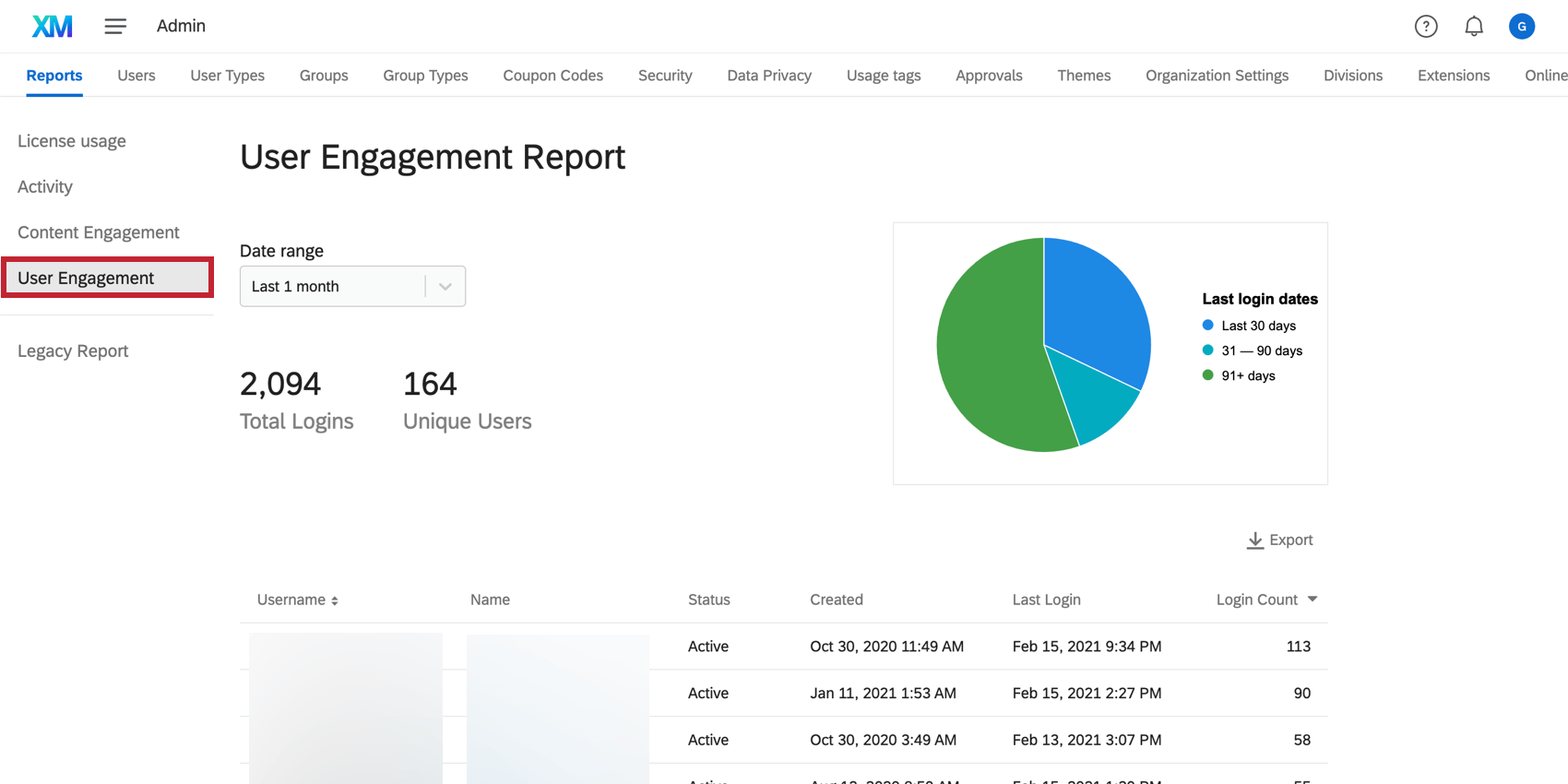 This section counts all users in all groups.
Export
In addition to these metrics, you have the option to export a detailed spreadsheet of the usage statistics for your organization. This export option is found at the bottom of the License usage tab.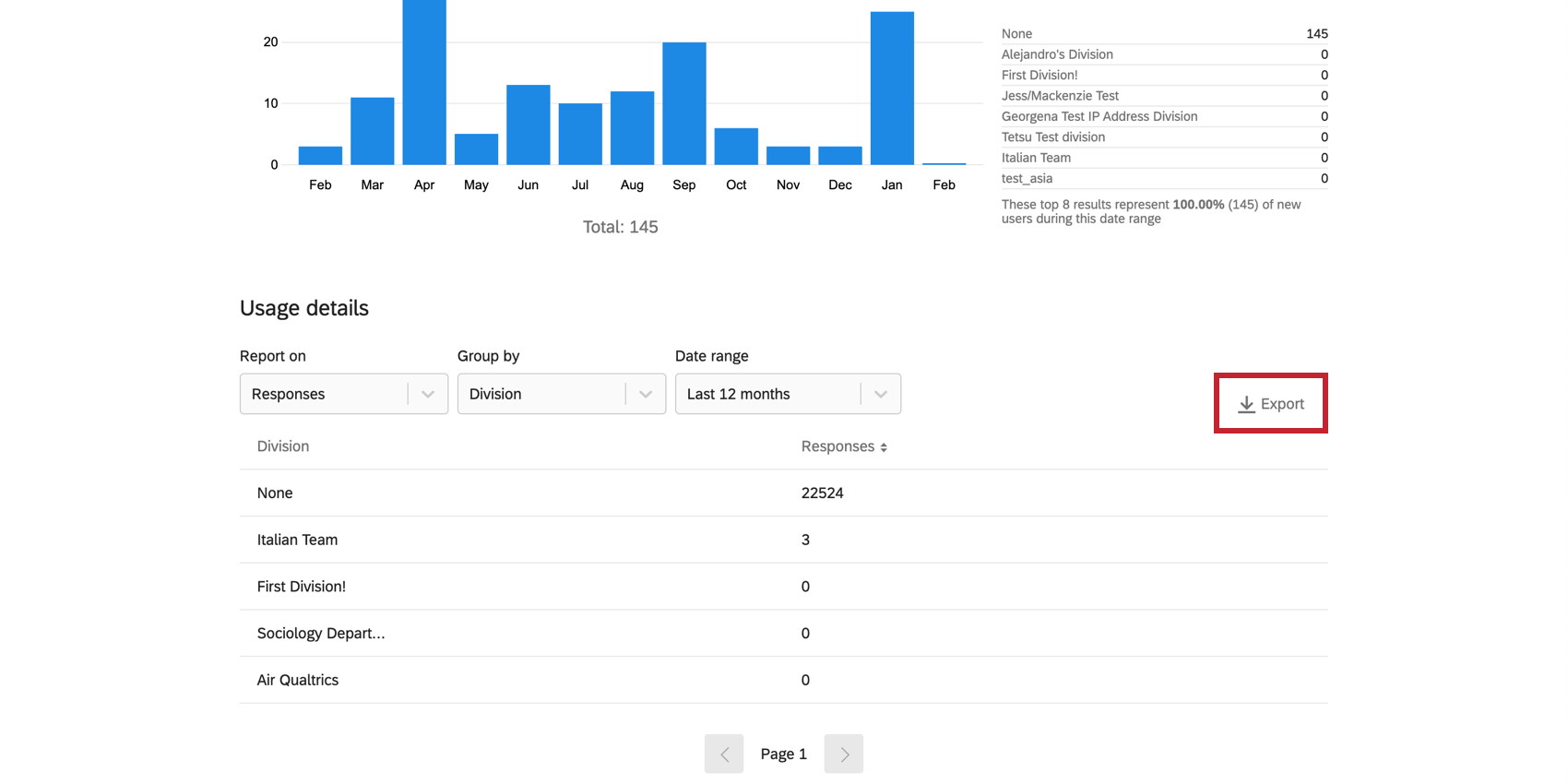 Qtip: When choosing a date range for your CSV export please note that the export will include responses beginning with the From Date selected, but will only include responses that were recorded before the selected End Date.
Users
The Users tab allows you to create new user accounts, as well as search for, view, and edit individual user accounts within your organization.


To locate individual users within your organization, you can search based on username, first name, last name, email address, survey ID (SV_…), or user ID (UR_…). You can also perform user searches based on division, user type, or account status. You can search using multiple fields to narrow down your results, if desired.


User Types
The User Types tab allows you to create sets of specific permissions for users. Rather than editing users one by one to have the same permissions, you can create and assign user types. Then, whenever you want to make a widespread permission change, you would just edit the user type and all associated user accounts would update automatically.


Groups
The Groups tab allows you to create, edit, and search for user groups. You can use groups to create and share library content (e.g., surveys, graphics, files, messages). You can also use groups to share contacts. Not to be confused with divisions, groups are primarily  used to facilitate easy content-sharing between a subset of users within a brand.


Group Types
You can use group types to set permissions for what individual group members are allowed to do with group content.


Coupon Codes
You can use the Coupon Codes tab to generate codes that allow users to update their account permissions without your manual involvement.


Security
The Security tab is a premium feature with additional security settings, such as the ability to track which users are logged in, add more requirements to passwords, modify how many failed logins lead to an account lockout, and more. To learn more about how you can get access to this tab, contact your Account Executive.


Organization Settings
The Organization Settings tab allows you to edit options for your organization, such as password requirements and login page information.


Data Privacy

The Data Privacy tab is available to all Brand Administrators, but not to Division Administrators. It contains the Personal Data tool, which allows you to delete all records in a brand that are related to an email address. This prevents users from having to delete in separate places (contacts, tickets, responses, etc.). It can be seen as a highly useful tool for maintaining GDPR compliance. You can also configure Sensitive Data Policies here, which allow you to regulate the private personal information collected by your brand.
Divisions
If your license includes a large number of users, you can create divisions to help make it easier to manage the accounts. Once a division has been created, you can give other users administrative access over specific divisions, letting these Division Administrators handle the division-related tasks. Not to be confused with groups, divisions are primarily used to easily bulk manage account permissions for a subset of users within a brand.


Related Articles