Customer Experience

Employee Experience

Brand Experience

Product Experience

Core XM

Design XM
Look & Feel
What's on This Page:
About the Look & Feel Menu
The way your survey looks can determine how well it performs. The good news is that Qualtrics gives you the ability to customize the appearance of your survey in many different ways. Whether you use a custom-built theme built by our design experts, or you choose to individually customize specific survey elements yourself, Qualtrics gives you the ability to build visually appealing surveys like no other platform. The look and feel menu changes how your survey looks to respondents when they take your survey.
To access these customization options, go to the Look and feel menu in the Survey tab.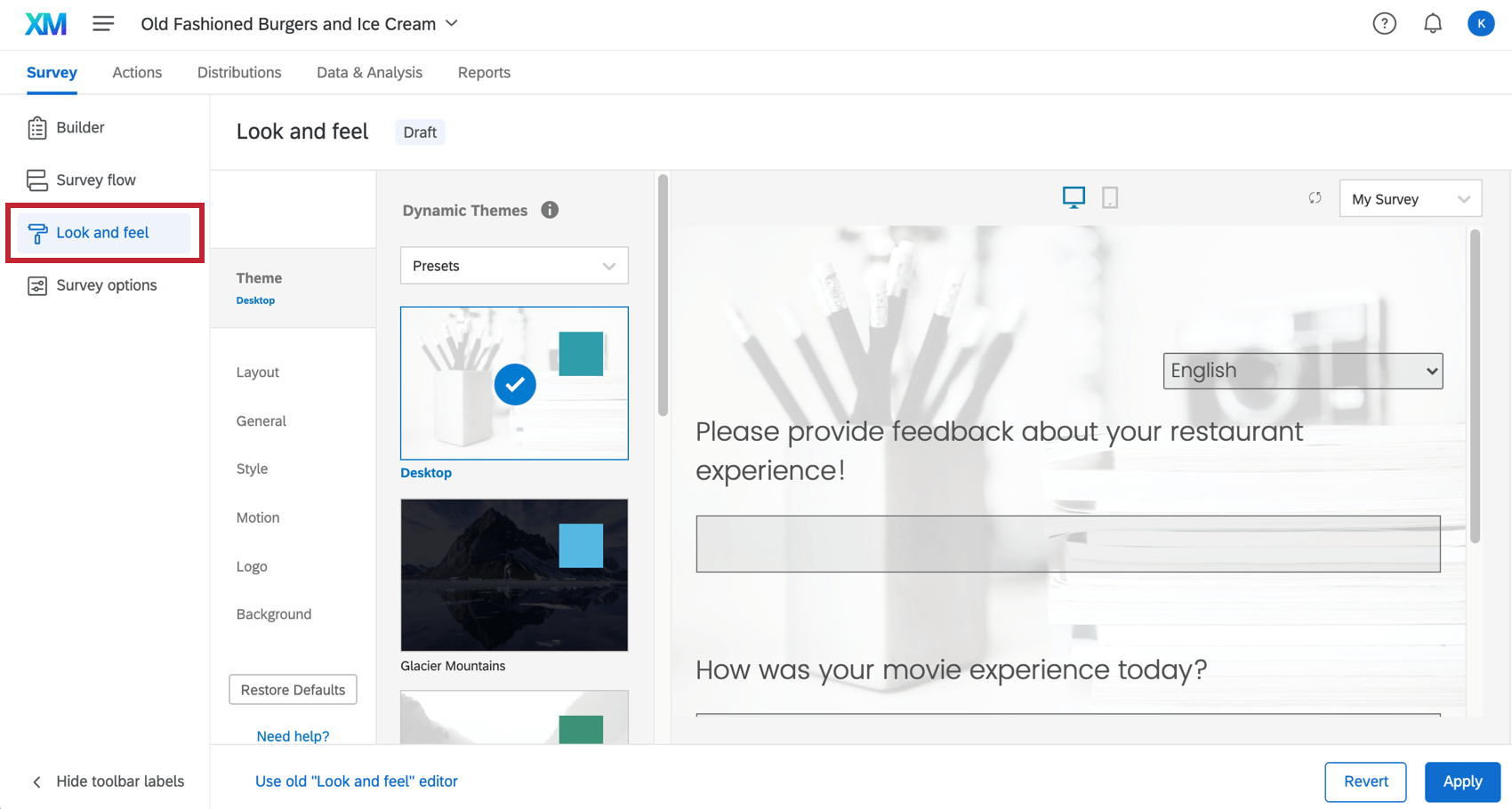 Qtip:
If your look and feel editor looks different than what is shown here, chances are you're in the old editor! See
The Old Look and Feel
for more details.
Look and Feel Customization Options
Using the look and feel menu, you can customize many aspects of your survey's appearance. Click the links below to learn more:
Change the Survey Theme: Choose from preconfigured settings for quick and easy survey theming

Qtip

: If you are a Brand Administrator and would like to have a custom theme created for your organization, visit the

Support Portal

. If you would like to create a survey theme from scratch on your own, you will want to apply a basic theme and use the below look and feel settings and custom CSS to customize the theme.

Brand Your Survey: Add a dynamic logo, background image, header, and footer to make your survey instantly recognizable.
Change the Question Layout: Choose from 3 different question layouts and limit the number of questions per page.
Edit the Next and Back Button Text: Customize the Next and Back button text to fit your survey's need. This feature also allows you to choose a translated message for your button text, enabling multi-language surveys.
Add a Progress Bar: Show respondents how far along they are in your survey.
Change Colors: Set the primary and secondary colors for your survey.
Change Fonts: Apply a font typeface and sizing to your entire survey.
Control Survey Motion: Determine how your survey moves. You can set the page transition animation, enable survey autoadvance , and set your survey to autofocus on the currently selected question.
Add Custom CSS: Add custom CSS to your survey to accomplish endless custom survey theming.
Qtip:
Didn't see the option you need in the list above? Look through our 
survey options
 page to explore many additional survey settings.
The Old Look and Feel
While the new look and feel menu can accomplish much of what the old look and feel menu can, there are a few features exclusive to the old menu. This section outlines features not available in the new look and feel.
To return to the old editor, click Back to Old Editor in the bottom-left of any section.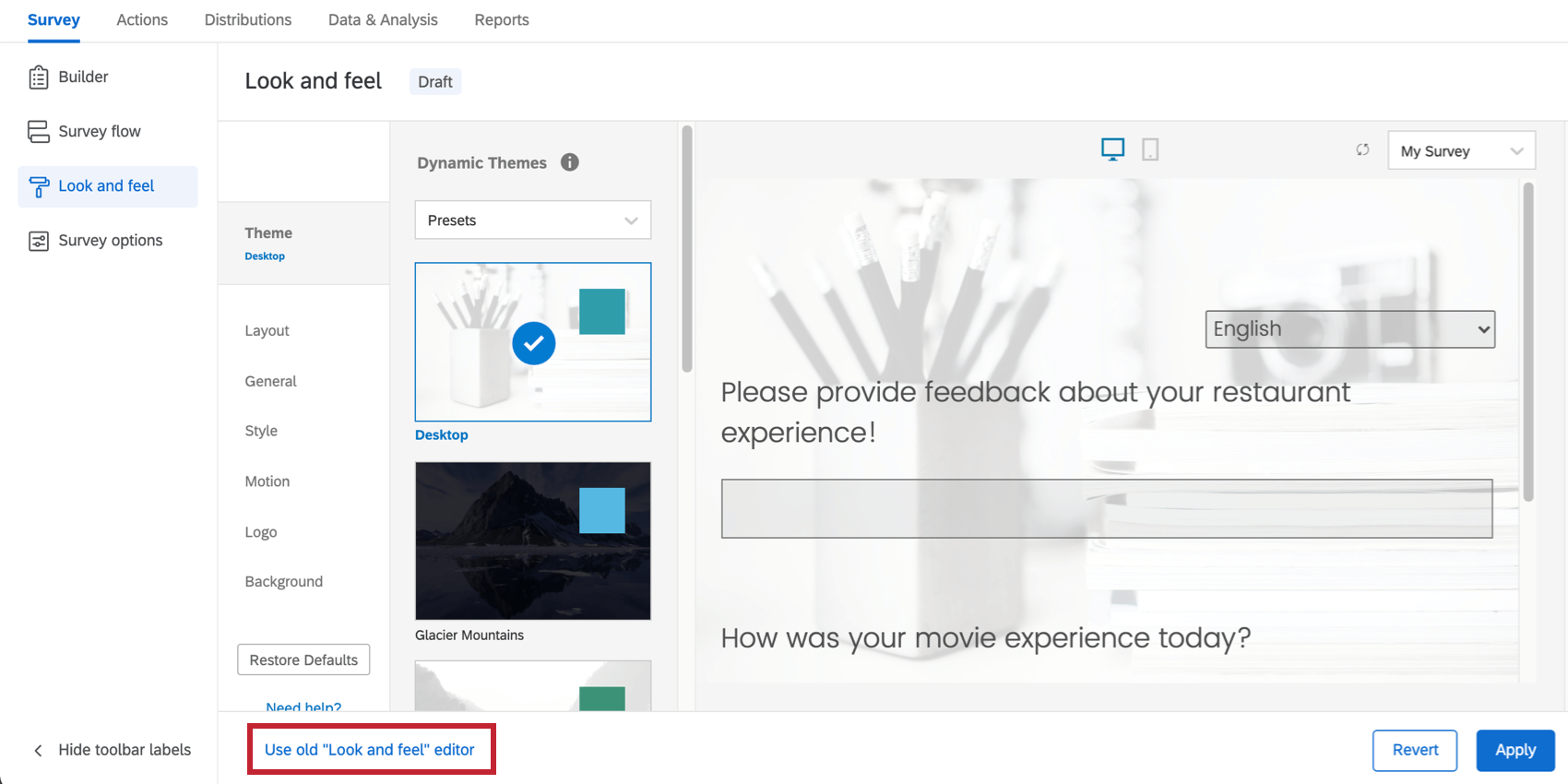 Old Qualtrics Survey Themes
The old look and feel menu contains older Qualtrics survey themes available for you to use. To use an old Qualtrics theme, go to the old look and feel editor and click Change Theme. Then, select the thumbnail of the theme you'd like to use.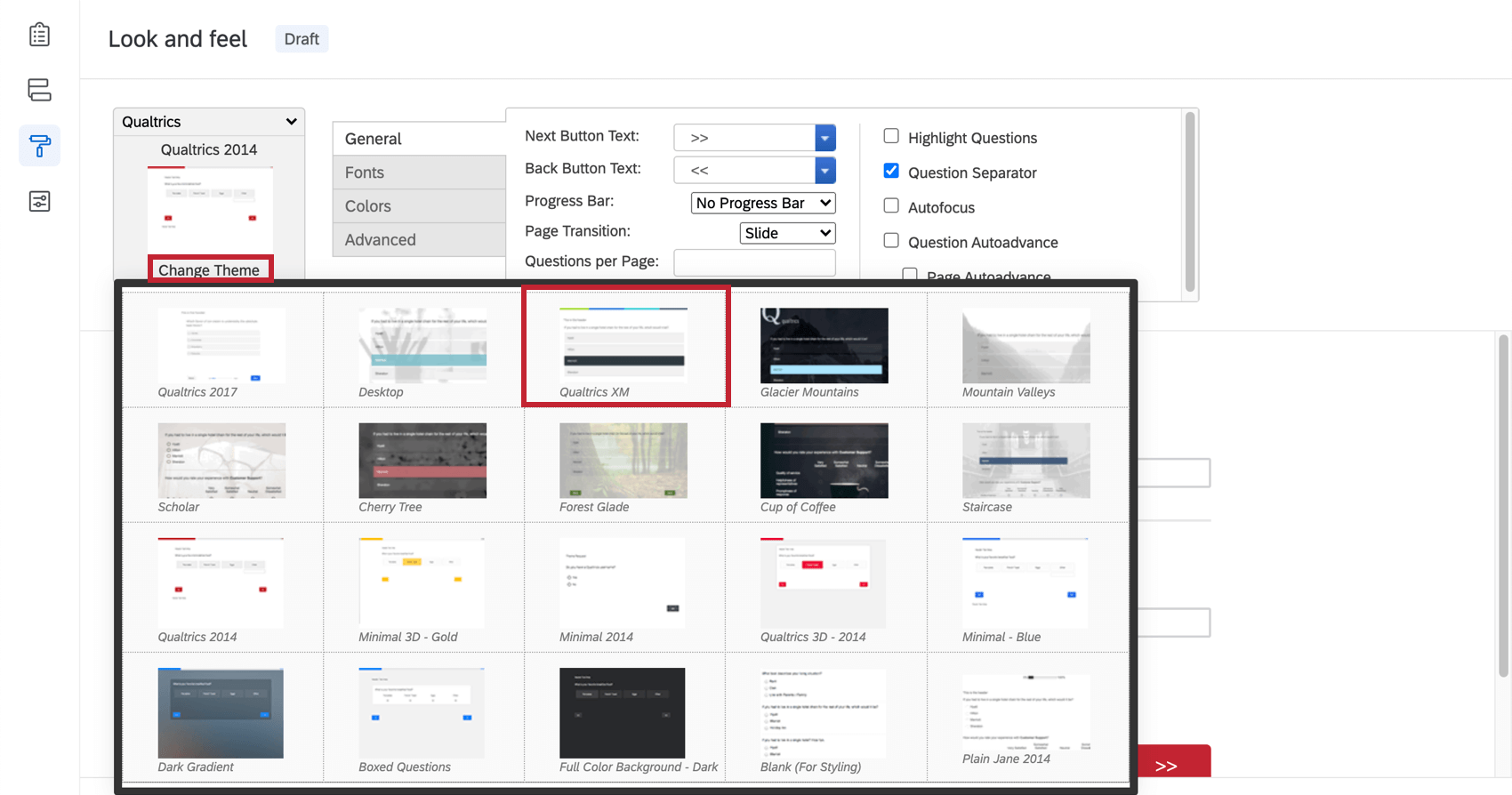 Question Separator
The question separator is a feature to visually separate the questions on your survey pages. With this option, a simple line is added between each question.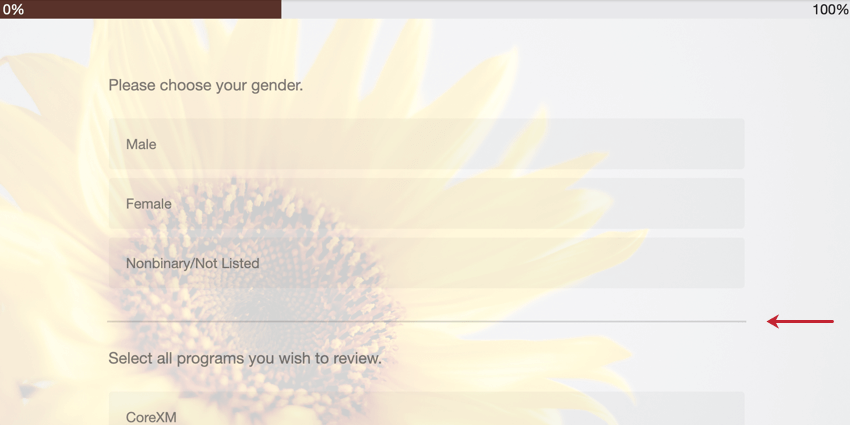 To enable the question separator:
Enable the Question Separator option.
Question Highlighting
Highlight questions to draw attention to the currently-selected question, helping respondents navigate through longer survey pages.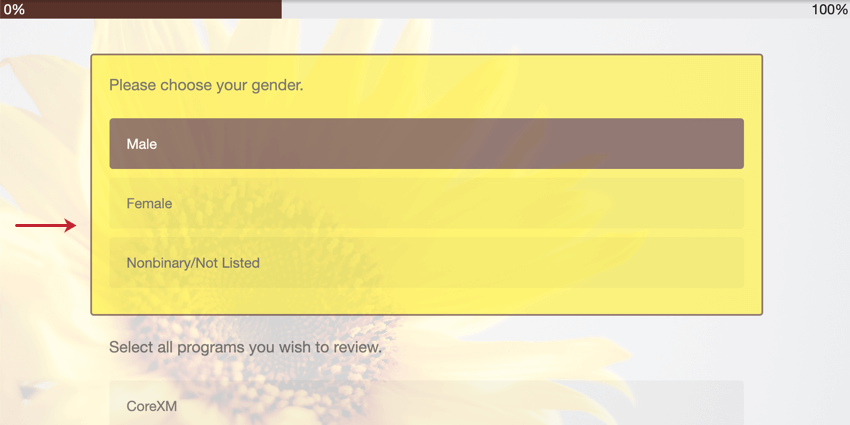 To highlight questions:
Enable Highlight Questions.
Alternate Row Color
You can make sure that in certain question types, such as matrix tables and side by sides, every other row is a different color, so they're easier to tell apart.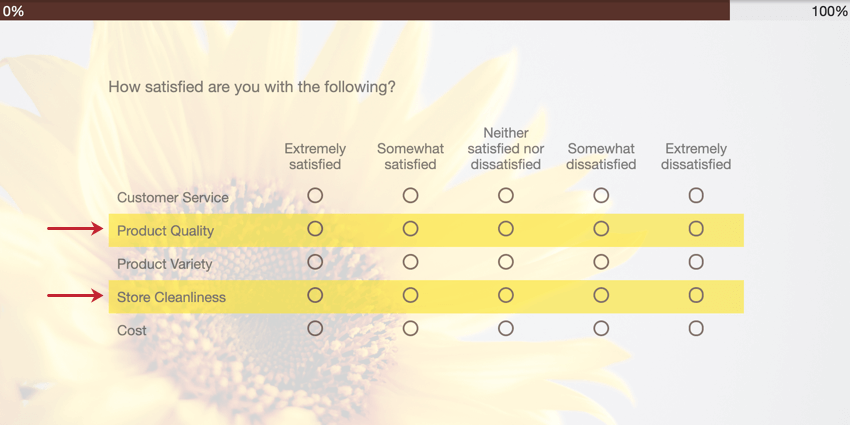 To change the alternate row color:
Click the color swatch next to the Alternate Row option.
Related Articles