Customer Experience

Employee Experience

Brand Experience

Product Experience

Core XM

Design XM
Formatting Questions
What's on This Page:
About Formatting Questions
Once you've created a question, you can customize it to fit your survey. To begin formatting a question, click on it in the survey builder.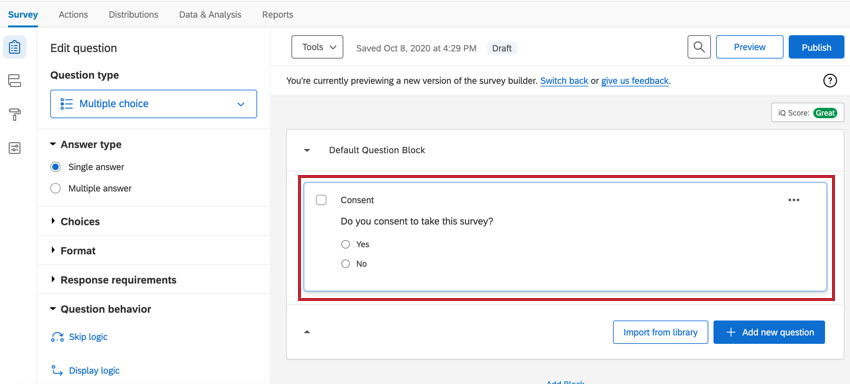 Qtip
: This page covers formatting options available to every question type. If you're looking for information on a specific question type (e.g., variations of matrix tables), check out that question's specific support page. See
Question Types
for a list of all question types and their support pages.
Editing Question Text
Click directly on a question's text to begin editing it. To change the question text, simply type the text into the text box.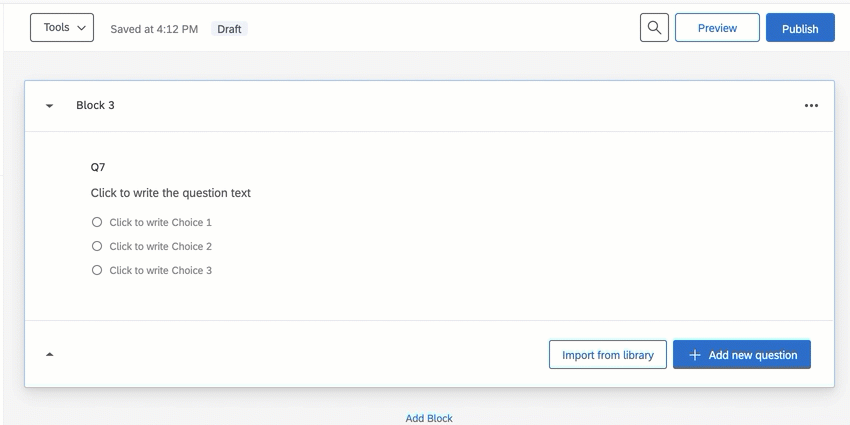 When formatting your question text, you have five main tools and shortcuts.
Rich Content Editor: Allows you to further edit your text and apply formatting, such as bolding, italics, adding hyperlinks, etc.

Piped Text: Opens a dropdown menu that gives options for piping text into a question. Piped text works as a placeholder, and allows you to dynamically pull text from a previous question, contact list information, or embedded data, and display it in the current question.

Normal View: This is the default mode of editing. This view does not have as many formatting options as the rich content editor, but will retain any changes you made there. This mode allows you to switch out of the HTML view.


Qtip

: The Normal View and Rich Content Editor will not always show formatting changes the same way; generally, what's shown in the rich content editor is what you'll see in your survey. Make sure you

preview

your survey to check your question's formatting.

HTML View: Allows you to see and edit the underlying HTML of the question text. This is the equivalent of clicking "Source" in the rich content editor.

Adding & Editing Answer Choices
Once you've created a question and formatted it the way you want, it's time to add some choices for your respondents to pick from.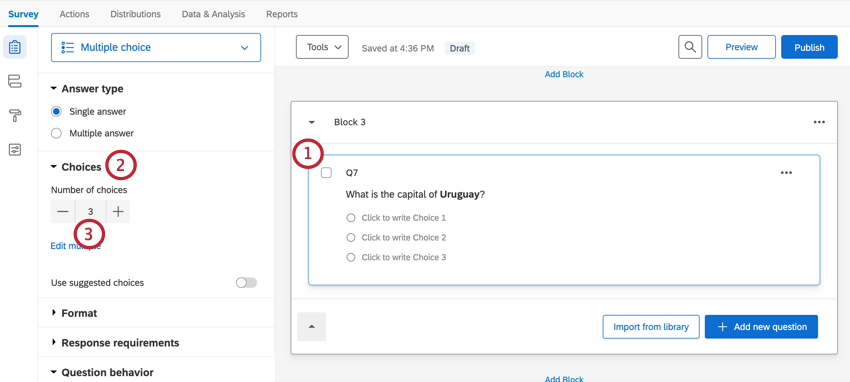 Click the question you want to add answer choices to.
Navigate to the Choices section.
Use the plus (+) and minus (–) symbols to change the number of choices in the question. You may also type a number of answer choices directly in the box.
Qtip: You can also add another answer choice by pressing the return or Enter key on your keyboard while editing the last answer choice in the question.
To edit an answer choice, click the answer choice in the builder and begin typing. See Formatting Answer Choices for more instructions on how to add answer choices, plus a description of all the other options available for customizing answer choices. Note that the linked page uses the old survey builder UI, but the functionality is the same.
Editing Question Labels
In addition to question text, you can also edit the Question Label. The Question Label will change the question title that appears in logic menus, Survey Flow, and data exports (rather than the actual text of your question, which is the default). Question Labels are especially useful when you have questions with a lot of text or text that is similar to other questions.
Click Edit Question Label on the bottom-left to start typing a new question label. This label does not display to the survey takers; it is only for your own internal use.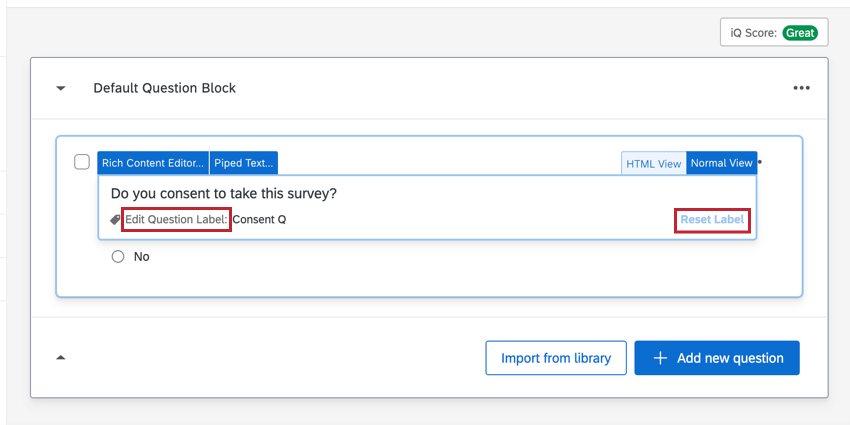 Click Reset Label on the bottom-right to set the question label back to the original question text.
Question Numbers
By default, questions will be numbered in the order of creation, even if you move them around in your survey. You can manually edit your question numbers to be whatever you'd like. They don't need to be numeric and can be text labels (e.g. "CSAT" or "Intro" instead of Q1). To edit your question numbers manually: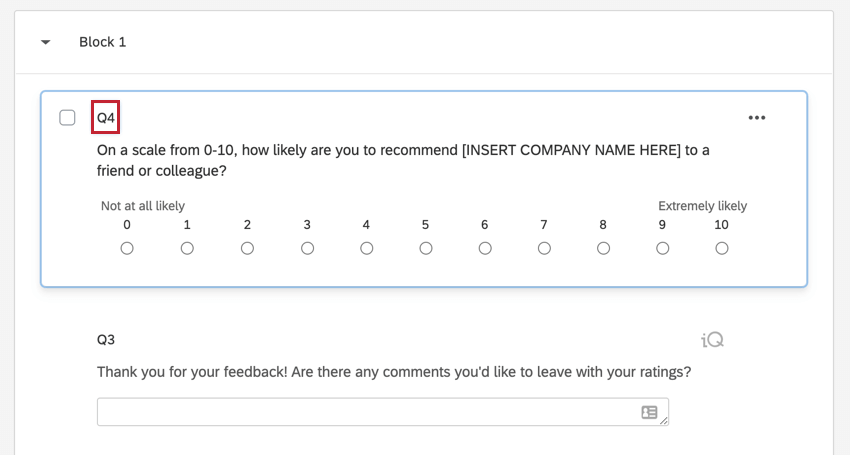 Click on the question number in the survey builder.
Type the new question number.
Press Enter on your keyboard.
Qtip:
Looking to automatically renumber all of your survey questions? Check out the
Auto-Number Questions
feature.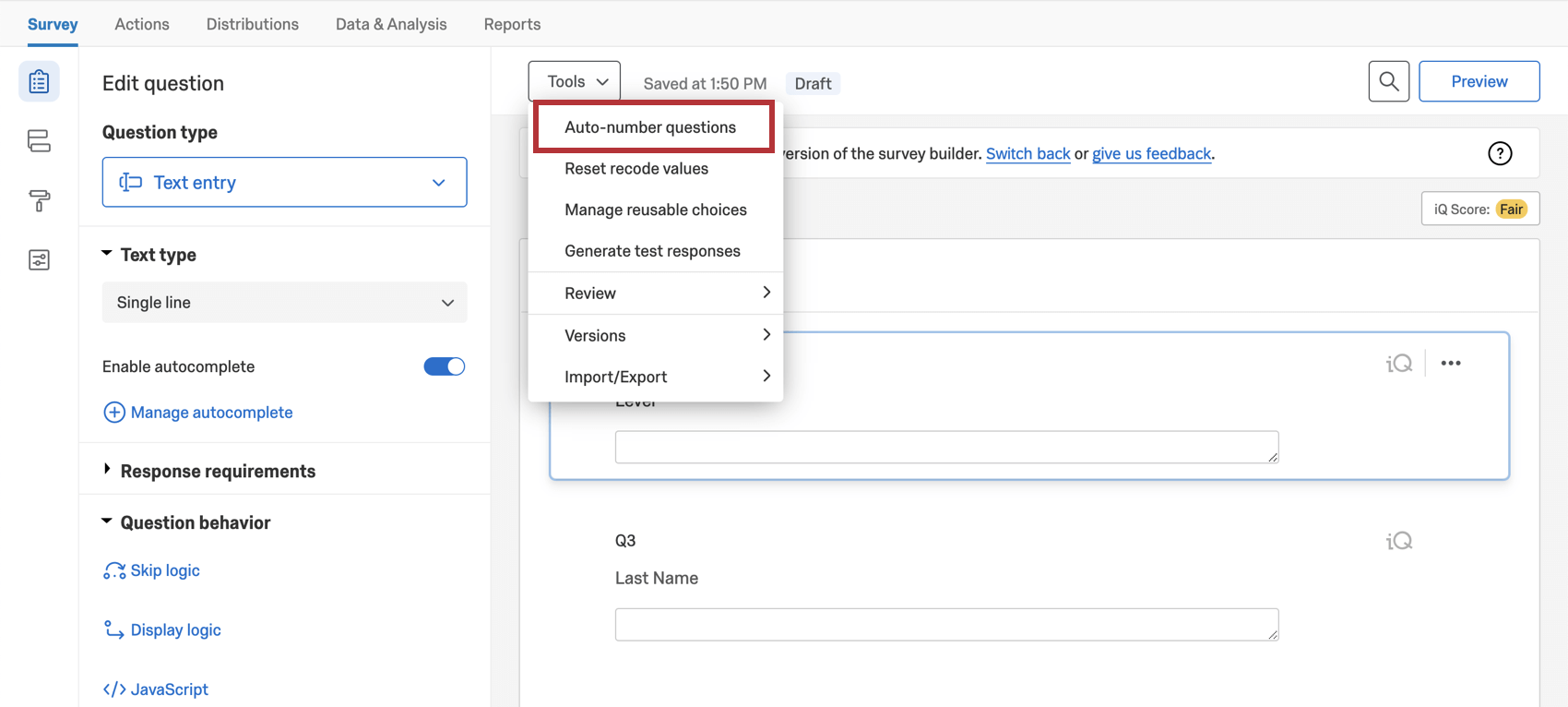 The question number is different from the question ID. By default, question numbers begin with the letter "Q" followed by a number. For example, Q8 would be the 8th question you've created for your survey. You can change the question number at any time. Question IDs are internal identification codes that cannot be changed. Question IDs are preceded by "QID" followed by a number. Your survey's question IDs are available when exporting your data from Data & Analysis.
By default, question numbers are not shown to respondents. You can choose to show respondents question numbers by enabling Question Numbers in your survey options.
Adding Validation
Worried about respondents skipping over some of the questions in your survey? Want to require some columns on your matrix table, but not others? Want to limit the character range of a feedback question? You can do all this and more when you add validation to your questions. Validation can be used to solicit a specific answer from a respondent; for example, making sure your respondent enters an email address when you ask them for their email. For more information about question validation, see our page on Response Requirements & Validation.
To add validation to a question: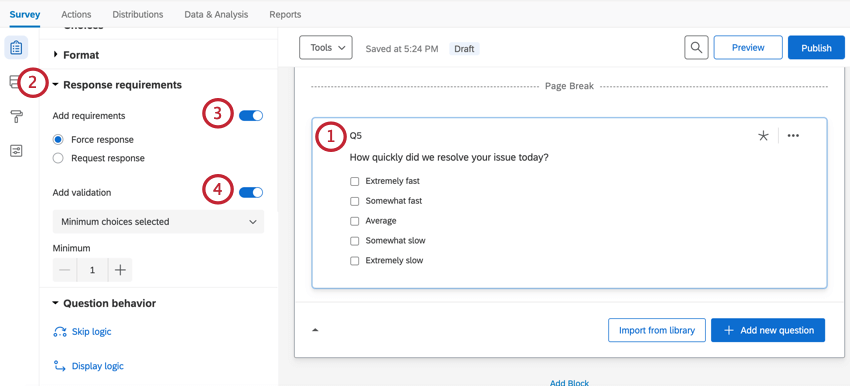 Click the question you'd like to add validation to.
Navigate to the Response requirements section.
To enable either force response or request response, enable Add requirements and select your desired option.
Question Actions
When formatting your questions, there are a number of actions available to you to help build and test your survey quickly. To access these actions, click the three dots in the top-right corner of the question.

Move question: Move a question into a selected block. You can move the question to the top of the chosen block, bottom of the chosen block, or select before or after to place the question near another specific question in the block. This is an alternative to dragging questions to move them.

Copy: Creates an exact copy of the question.
Add page break: Adds a page break directly after the question.
Preview question: See how the selected question will look to your respondents without previewing the entire survey.
Add note: Make internal notes or comments on the selected question. This is especially helpful when multiple people are working on the same survey, because it allows other users to respond to your notes and add comments of their own. Respondents do not see notes on questions.
Delete: Deletes the question. You can restore deleted questions from your trash.
Question Behavior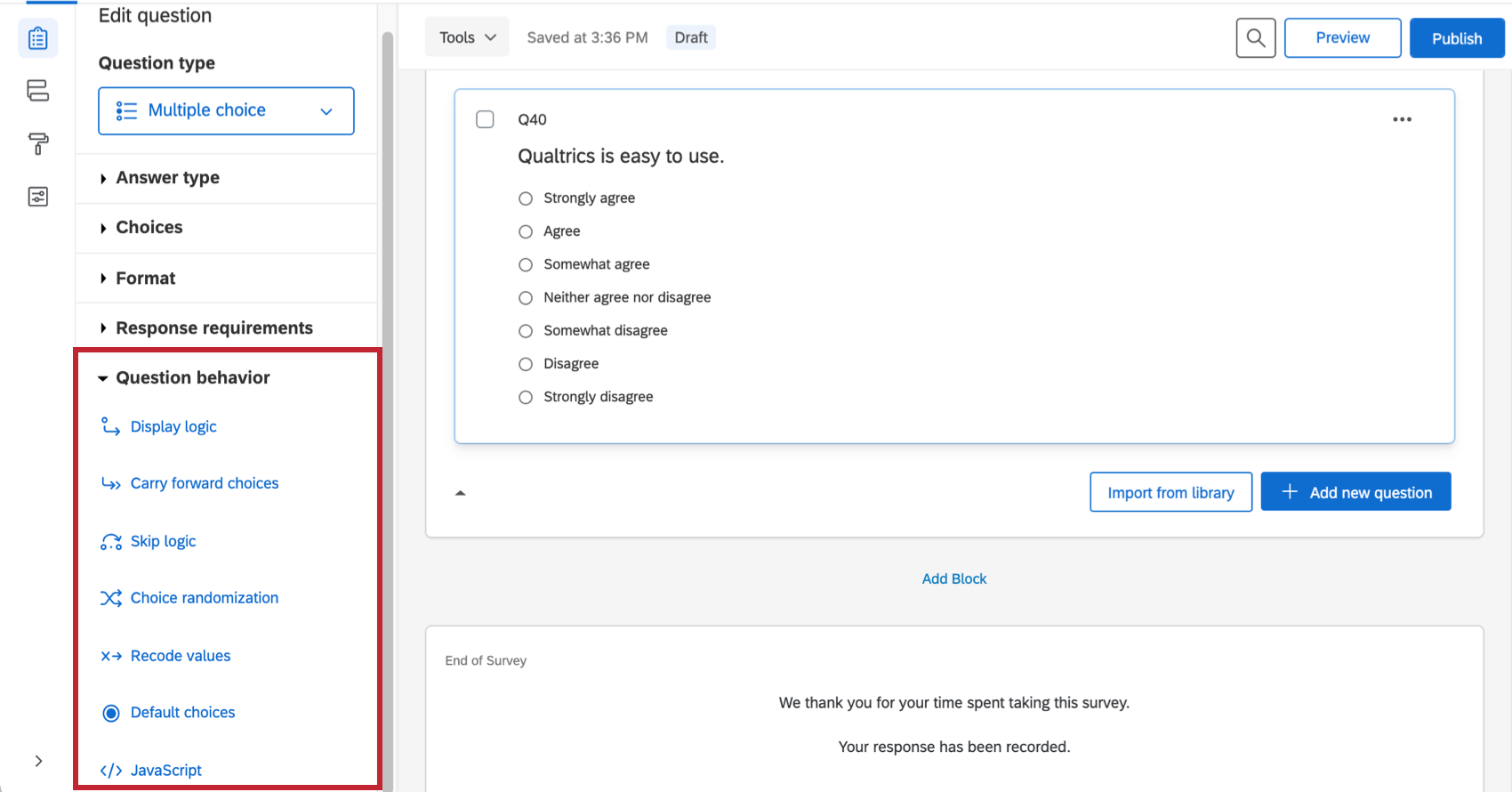 While formatting questions, navigate to the Question behavior section to add advanced behavior to your questions, such as the ability to hide questions under certain conditions, take selected choices from a previous survey question, designate a choice to be selected by default, and more. The features available in this section are:
Related Articles