Customer Experience

Employee Experience

Brand Experience

Product Experience

Core XM

Design XM
Follow Up App
What's on This Page:
Attention:
This feature is no longer available for download, but you can find all of the Follow Up App's functionality (and more!) in the new
Qualtrics XM App
.
Attention:
You are reading about a feature that is not currently available for all clients. If you'd like more information or to purchase access, talk to your
Account Executive
.
Downloading & Accessing the App
The Qualtrics Follow Up App is a mobile ticketing app. It is no longer available for download in the Apple Store and the Google Play Store. If you already have this app downloaded, simply log in with your Qualtrics username and password.
In order to access the app, your account will need to have the Use Qualtrics Tickets and Access API permissions enabled. Reach out to your Brand Administrator or Customer Success Representative if you need to have these permissions enabled.
Qtip: 
Logging into the Follow Up App via SSO is supported for most SSO configurations. For more details, please reference the
Logging in through Mobile Apps
SSO support page.
Signing In
Depending on how your account is set up, there are two ways to log into the app.
Click Sign In to begin.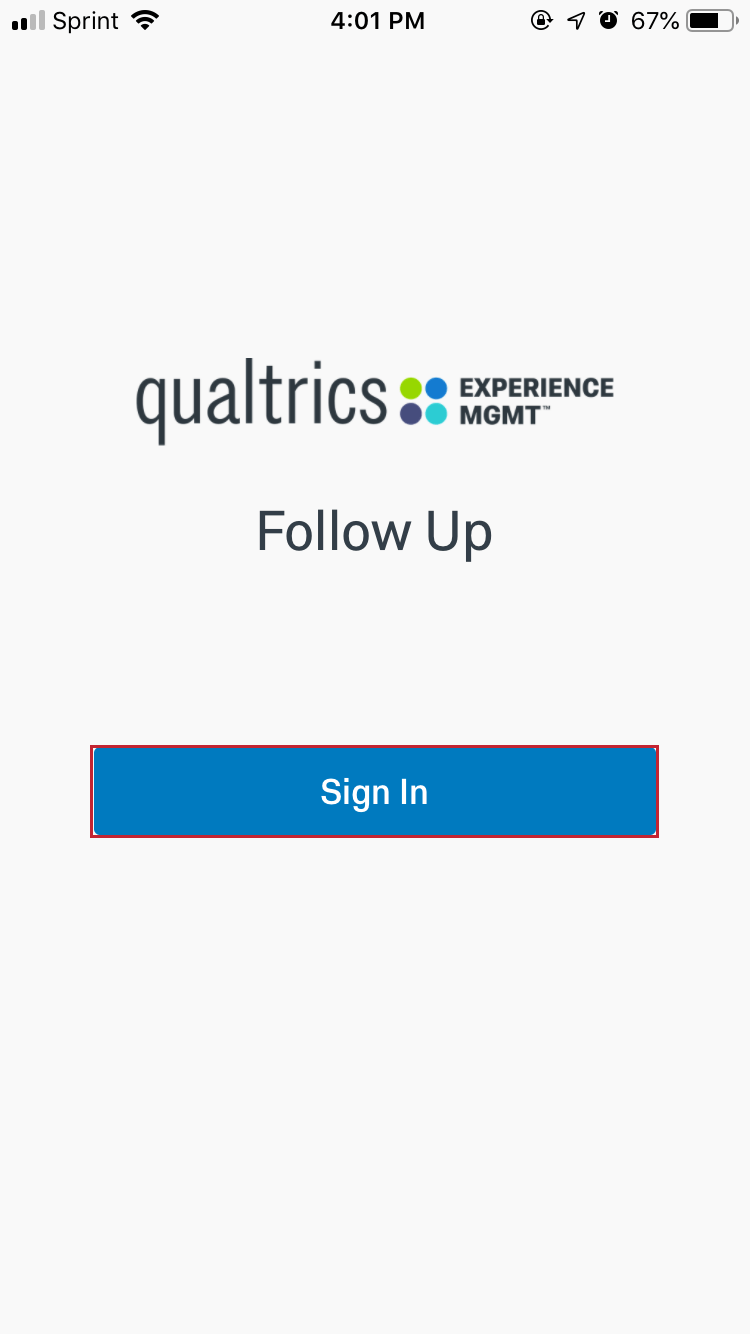 Standard Login
Most users log into the Follow Up app the same way they log into the main website, by providing a username and password.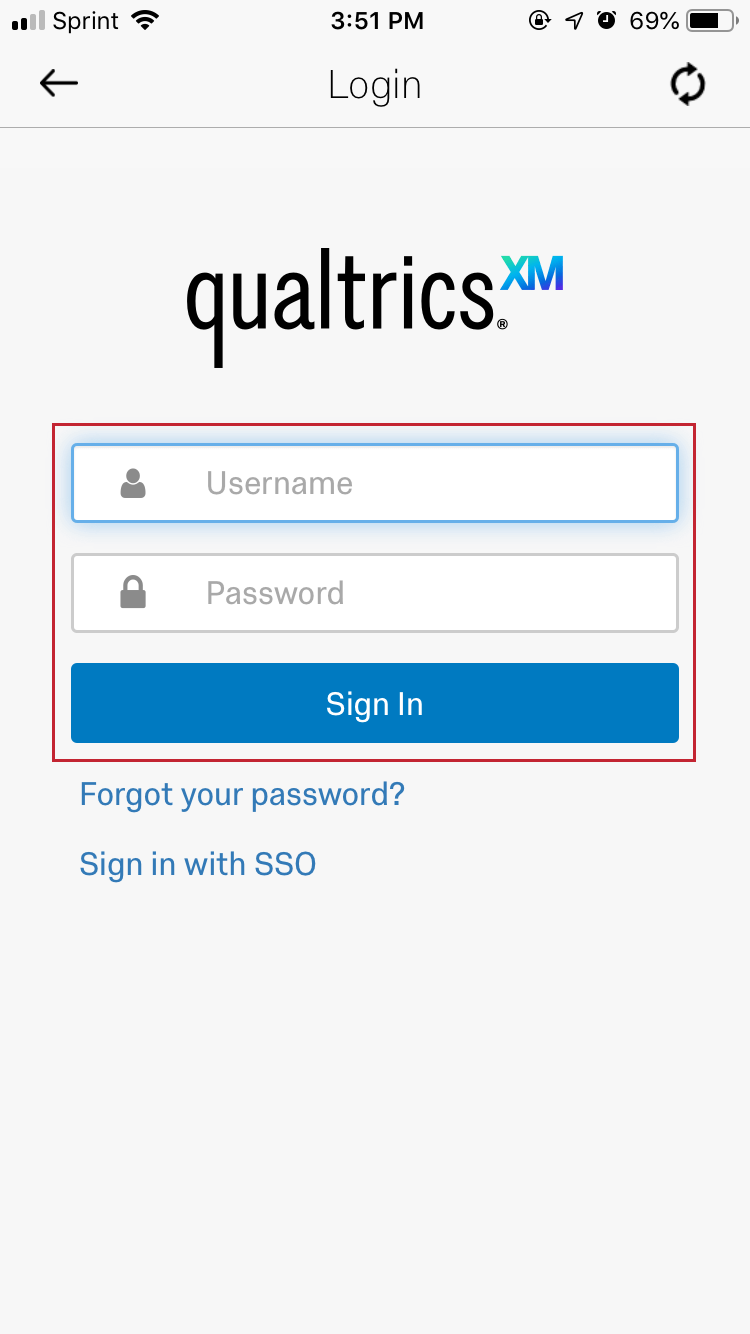 SSO Login
SSO stands for "Single Sign On." When a company has SSO, they allow you to use one login service to access many different websites.
Not sure if your organization has SSO or not? Go to Account Settings and scroll down to the Recent Logins section. There you will see your username. If there is a hashtag (#) in it, your organization uses SSO, and you have to use the special login.
The information that comes after the hashtag is your Organization ID.
When you pull up the ticketing mobile app, click the Sign in with SSO option.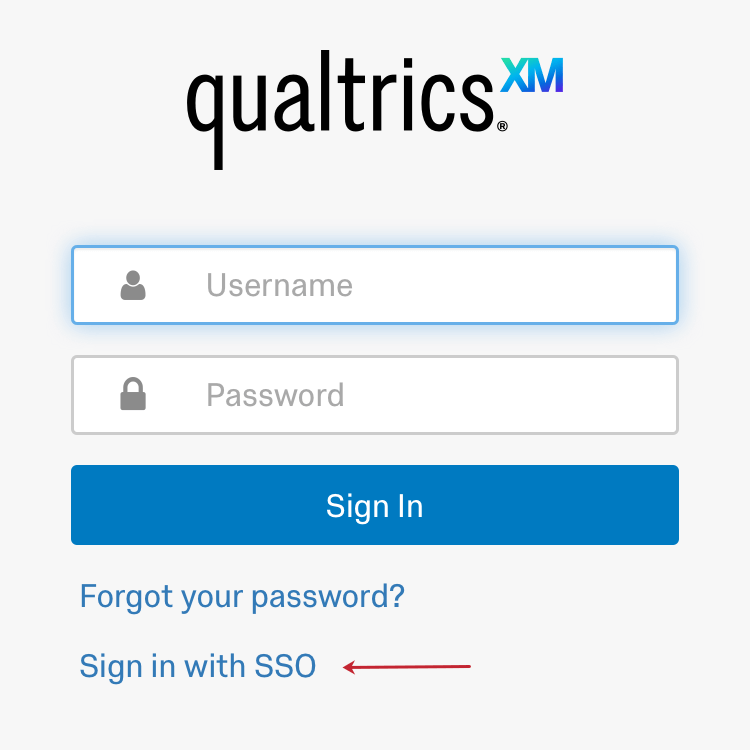 In the Organization ID field, enter the Organization ID you got from your Account Settings.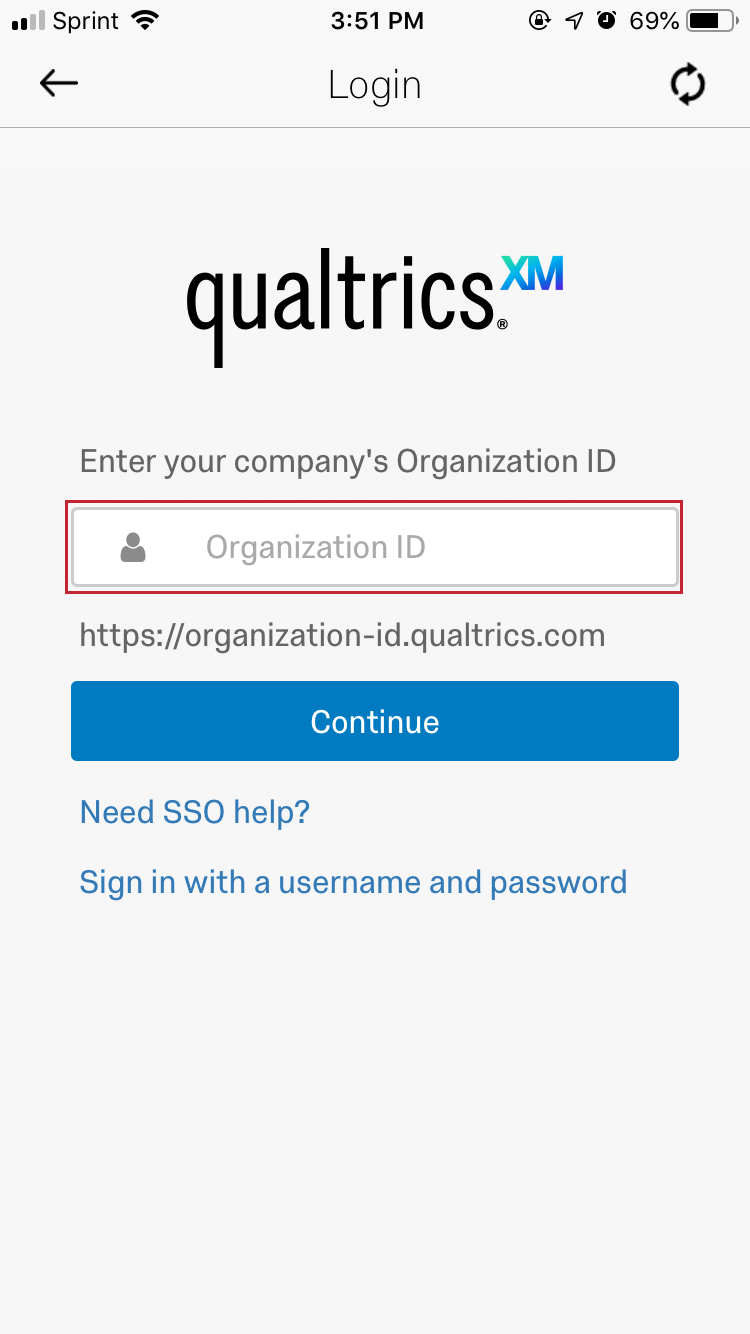 Click Continue and log into your organization's portal as usual.
Using the App
After logging into the app, you will be able to filter, sort, or search through all of the tickets assigned to you and then view and act on tickets directly from your mobile device. For more information on creating tickets or following up on tickets, please visit their respective pages.
Filtering: Select Filter by from the menu in the top, right corner. Currently, you are able to filter based off of Status, Priority, Owner or Team.
Sorting: Select Sort by from the menu in the top, right corner. Currently, you are able to sort by Priority, Creation Time, and Time of Last Update.
Searching: Select the magnifying glass to keyword search through all of your tickets. This will search the names, embedded data fields, and comments of any tickets that are assigned to you or your team.
Simply click on any ticket to view all of the associated information. Once a ticket is selected, you can change the status by clicking on the current status or add any comments using the text box at the bottom of your screen.
Qtip: When a ticket gets assigned to you, you'll receive a notification.
Related Articles