Customer Experience

Employee Experience

Brand Experience

Product Experience

Core XM

Design XM
XM Essentials 11: Filtering Neighborhood Demographics
What's on This Page:
Filtering Our Neighborhood Results-Report
Filters screen (in or out) conditions you (do or don't) wish to see. For example, we want insight into the summertime drink preferences for our demographic age groups 25-54. This group accounts for the majority of drink purchases at the Lemonade & Lassi stand.
Filters are determined by conditional statements that are set by picking your:

Filter Criteria: Question answers, survey metadata, contact fields, or embedded data. (Find descriptions for each on the Filtering Responses support page.)
Operator: A logic operator ("is / is not", "equal to / not equal to", "and / or", and many more).
Operand (value): Numeric values or character strings.
Try it!
Exercise A-O: Filtering Visualizations
To save your filter, click Manage Filters.
Give your filter a name.

Click Save and Apply.

Qtip: We created this same filter earlier in Lesson 8, our Data & Analysis section. If a filter is important to you, save it so you don't have to set it up again. Filters saved in either the Data & Analysis or Results-Reports sections are available in both.
For practice and following the steps above, remove your filter and build a new filter again. Include a different demographic group, such as ages 11 – 24. Try another filter including only patrons 55 and up.
Extra Credit: Adding More Than One Filter
To create filters with multiple logic statements, click the plus sign ( + ) next to an applied filter or pick the Manage Filters button. This allows you to synchronize multiple conditional statements. For example, we wish to find out how many of our 11 parents answering the survey are willing to pay $2 for a drink.
When adding a new filter, use ALL and ANY to filter multiple conditions:
All: All conditions must be met. (Like joining conditions with "And.")
Any: At least one condition must be met. (Like joining conditions with "Or.")
To create multiple filters:
Choose Create New.
Rename your filter, if needed.
Use the Insert New Condition button and the plus signs ( + ) to add new conditions to your filter. Use the minus sign ( – ) to remove them.
Save and Apply your filter.
Qtip: After you've created a filter, you may need to rework your visualization. This reworked visualization shows that 9 of 11 parents were willing to pay $2 for lemonade. That's good to know.

Extra Credit: Hiding Pages & Deleting Extra Reports
If anything, Results-Reports can lead to visualization overload. Conveniently, you can hide question pages. To exclude a page, hover over its page icon to the left of the page name and clear the checkbox.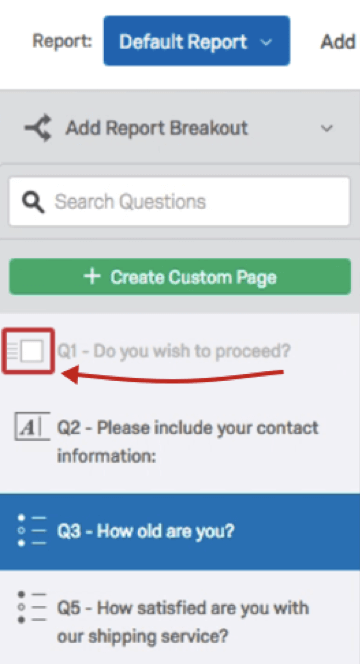 Hidden pages are grayed out and a warning bar appears above them clarifying that the page will not be displayed in exports or public reports. Re-display the page by re-selecting the checkbox.

To quickly hide all pages, go to the settings dropdown and pick Hide All Pages.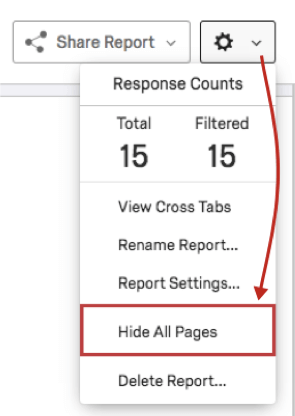 Qtip: To delete an entire report, open your settings menu and choose Delete Report.
Publishing a Report for the Neighborhood
Neighbors are asking, "Where are you putting the new Lemonade & Lassi stands?" For Moksh & Naman, it's important to share the survey results with the neighborhood — specifically the graphic showing the choices people made as to their preferred locations for the new Lemonade & Lassi franchises.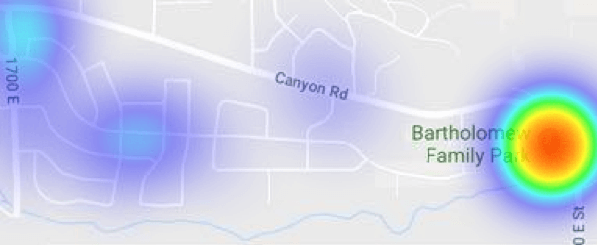 Public reports share reports with a simple web link (URL). Public reports are dynamic and update in real time as you collect more data or make edits to your report. And better yet, your audience doesn't need a Qualtrics account to access the link.
Try it!
Exercise A-P: Generating a Public Report
Select Manage Public Report.
Optional:To add an access code or password to a public report, select Access Code Protection. This means that only individuals you give the password to can view your work.
Enter a code of your choosing. We chose "lassi."
Copy the link.
Click Done.
Paste the link into any web page, email, text, tweet, or social media site.
Final Extra Credit: Exporting PDF, Word, PowerPoint, & CSV Reports
Results-Reports can be shared in an array of formats. Click Page Options followed by Export Report As to open a menu where you can generate PDF, Word, PowerPoint, or CSV compatible files which download to your computer. If your assignment is due in a matter of minutes, download and print the PDF Results file and beat your deadline.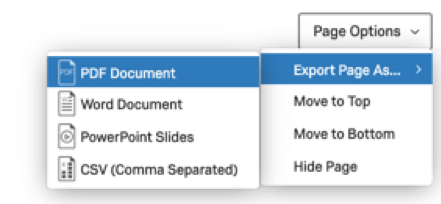 Related Articles