Customer Experience

Employee Experience

Brand Experience

Product Experience

Core XM

Design XM
XM Essentials 7: Collecting & Pausing Responses
What's on This Page:
So Far, So Good
You've created a project and designed a survey — complete with skip and display logic. For Moksh & Naman, it's time to publish and go live with their survey. Following their lead, we'll show you some simple strategies to distribute your survey to friends and colleagues.
Publishing
You absolutely, positively must publish your survey before it can be distributed. Publishing activates your survey so it can start collecting responses.
Qtip: If you make changes to a survey in the future, you'll need to re-publish it so new respondents get the latest version and won't answer outdated questions.
Try it!
Exercise W: Publishing & Activating a Survey
Open your project.

Click the green Publish button.
Before publishing, ExpertReview will analyze your survey and give you feedback on how it can be improved. To read through the suggestions, click the View recommendations button.

When you are ready, close the ExpertReview window and click the Publish button again.
Qtip: For now, simply choose Okay.
Distribution Channels & Methods
As you open the Distributions tab, you'll pick from a list of distribution channels which hosts a number of related options.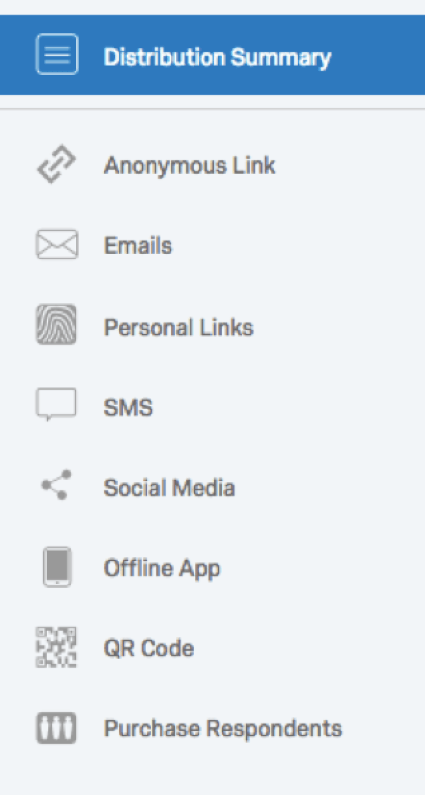 For instance, if you choose the (1) Email channel, you can send your survey through the (2) Qualtrics mailer (Send with Qualtrics) or (3) use your own email system (with or without a contact tracking method.)

Website Distribution
Moksh and Naman created a website for their Lassi & Lemonade business with pictures, maps, hours of operation, and an Anonymous Link to their survey. Anonymous Links can be used anywhere a link can be created, from websites to emails, texts, and social media.
Try it!
Exercise X: Using an Anonymous Link (URL)
Choose Anonymous Link from the menu.
Select and copy the link (URL).
Create a link by copying and pasting the URL anywhere a URL works, such as in an email, text message, on twitter feed, or on a social media site. (In our example, we pasted the URL in a Google Pages.)

Qtip:
The word "anonymous" is telling. You won't know who is taking the survey unless you ask them who they are in a question. If you need to track specific respondent information, create a
Contact List
and email invites straight from the Qualtrics mailer.
Customizing Social Media Postings
Moksh and Naman want to distribute their survey to their favorite social media sites. Luckily for them, Qualtrics supports Twitter, Facebook, Reddit, LinkedIn, and Pinterest with customized links and messaging tailored to each platform.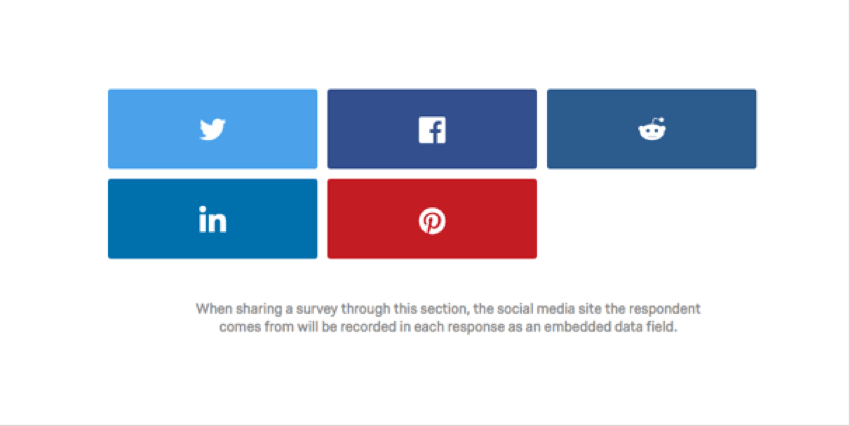 The referring social media site is recorded as Embedded Data. This data allows you to track the performance of each social media effort in relation to your overall survey campaign.
To get started, choose Social Media from the Distributions list.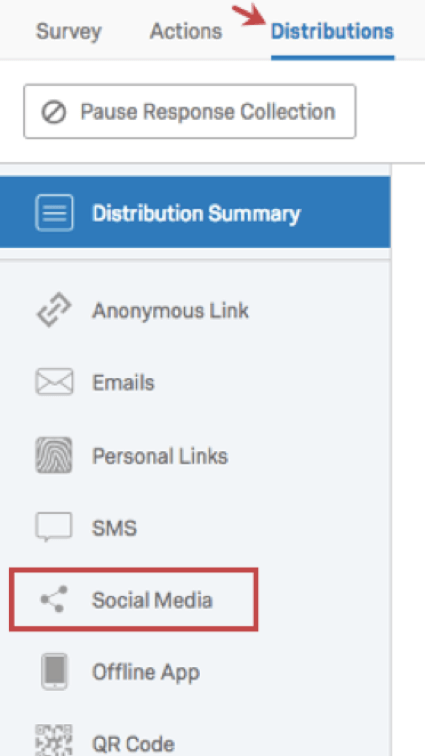 You'll be asked to login to your selected social media account and fill out a form customized to each platform.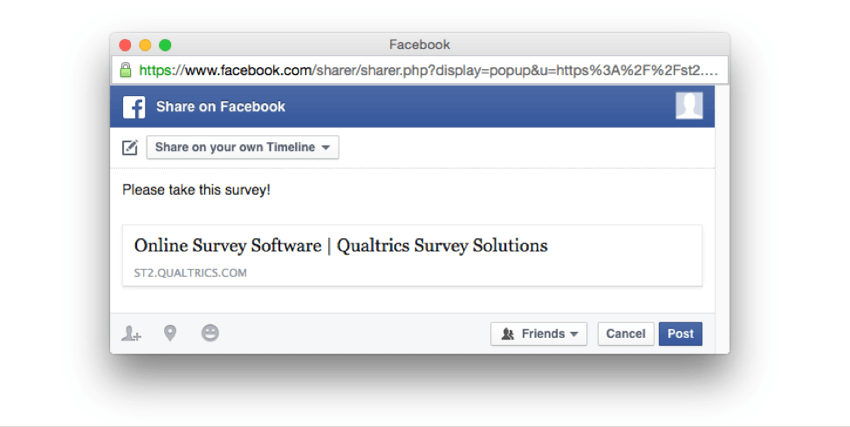 Go Get Your Data!
Try and collect 20 or more responses to test (dare we say "dogfood") your survey. Therefore, dabble with distributions in Exercise Y. Don't take a lot of time as there is a lot more to do in XM Essentials 8-11.
Qtip:
Gather more information about the various distribution channels by scrolling down the
Distributions
support page and scanning for possibilities.
Exercise Y: Collecting Sample & Test Responses
Collect over 20 sample responses using two or more channels. (Refer to the social media options explained above.) Move quickly to collect your 20 responses by:
Asking friends to take your survey multiple times each with the handy preview link! (That's easy.)
Taking it yourself multiple times with the preview link! (Even easier.)

Qtip:

If you don't have the time to collect sufficient data, try the

Generate Test Responses

feature. It'll manufacture sample responses out of thin air. This feature is often used to test a survey. What's more, it's easy to

delete test data

without touching your other responses.
Ending or Pausing Your Survey
At some point you will be wondering, "How do you close a survey when it's time to suspend data collection?" Glad you asked.
Try it!
Exercise Z: Closing (or Pausing) & Reactivating Surveys
Click Pause Response Collection.

Qtip: This will make the Closed status display on the Projects page for your survey.

Choose if you want respondents who haven't finished the survey to wrap things up, or whether you want to close the survey entirely.


Qtip: If you can afford the time, you may Allow all active survey session to be finished so respondents can finish what they've started. However, sometimes this simply isn't practical.

Click the Pause Response Collection button.
Related Articles