Customer Experience

Employee Experience

Brand Experience

Product Experience

Core XM

Design XM
Question Behavior
What's on This Page:
About Question Behavior
For each question in a survey, you can enable behavior that enhances your survey design, such as randomizing answer choices, hiding the question based on certain conditions, adding default choices, and more.
To access question behavior, either right-click on the question or use the Edit question pane to the left of your selected question.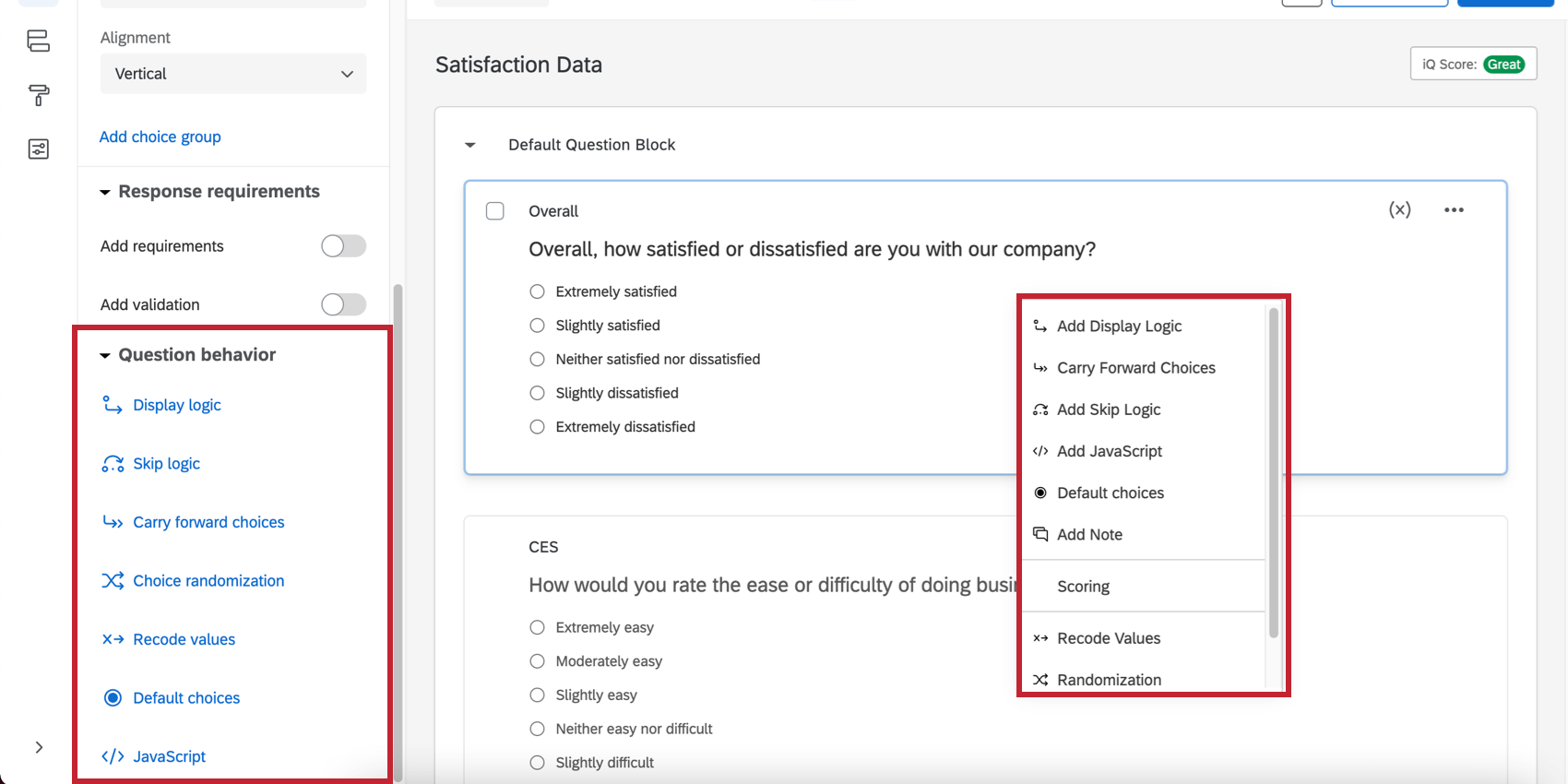 Available Question Behavior
Qtip:
Note that the options available under the Question behavior section will differ depending on the
question type
of the selected question.
These options can be accessed in the leftmost Question behavior menu and by right-clicking on the question:
Additional options that appear when you right-click on the question:
Add Note: Add comments to questions, either for your own benefit, or for other collaborators to see. These notes will not be displayed on the survey itself.
Scoring: Add scoring to a question. If a question cannot be scored, this option will not appear.
Add Choice Group: Group answer choices together. Only available for multiple choice and matrix table questions.
Adding & Removing Notes
If you've invited colleagues to collaborate on a survey with you, notes can be a good way to leave feedback and questions for each other while editing the survey.
Any notes you add to the survey are only visible to other people who can edit the survey. Respondents and those previewing the survey will not see these notes.
Adding Notes
Click on the question you wish to add a note to.

Click the gear and select Add note.
Or, you can navigate to Add note on the bottom right of the editing pane.
Type your note into the field.

Click Post to add the comment. You can also press Enter or Return on your keyboard.
Once the note is added, the first and last name of your account will be added next to it so collaborators can tell who left the note. There will also be a timestamp in the note.
Deleting Notes, Hiding Notes, and Adding More Notes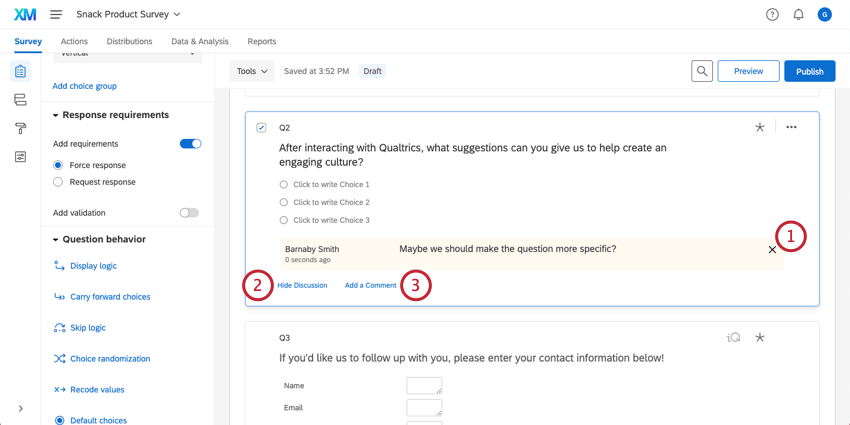 Click the grey X to delete the comment. You can only delete your own comments.
Click Hide Discussion to collapse the comments and only show the last comment of the discussion. This option only hides the thread for you, not everyone editing the survey. You can click Show Discussion to reopen the thread.

Qtip: This option is best for when there's a long thread of comments that makes scrolling through the editor cumbersome.

Click Add a Comment to add an additional comment.
Related Articles